Behind-the-Scenes: How we make baby mattresses in Melbourne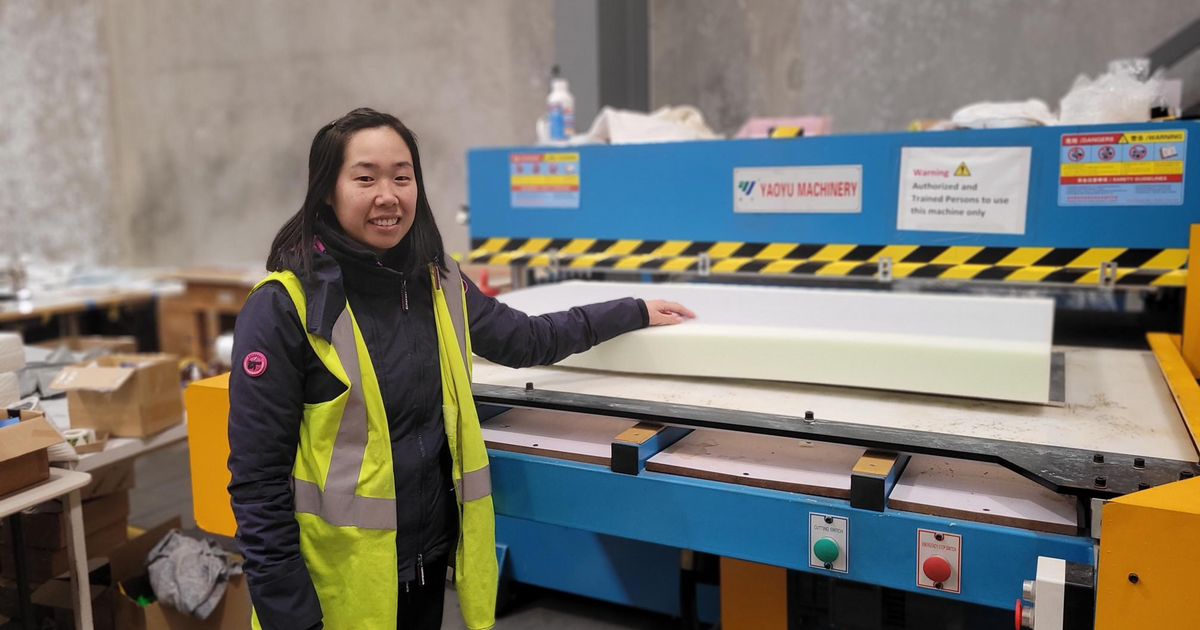 Welcome to the first of our 'Behind-the-Scenes' series, where we discuss all-things baby and toddler with an expert in their respective field. 
First up we are proud to introduce Mai, our resident Production extraordinaire and mother of two.  
Join us as we pull back the curtain on how some of the most popular Babyrest products are created right here in our Melbourne warehouse and get a behind-the-scenes peek into how our Production team operates! 
Tell us a bit about your role and how you got started in production: 
I joined Anstel in April 2021 as the Production Coordinator. In this role, I oversee the day-to-day running of our five-person, in-house Production team, as well as do hands-on work to create Babyrest products. 
My background is actually in fashion, specifically quality assurance in the fashion industry, which is a great fit for this role because it means that when our team creates a product, we ensure it is of premium standard before it goes out. 
What does a typical day in the Production team look like? 
The first thing I do is prioritise which items we'll be working on that day and do a quick check to see if any stock or raw materials need to be replenished.  
Next I'll start preparing the foam for the day and get things ready for my team. We'll lay out the fabric so that it's ready for cutting, and then each person will work on the production line, whether it's punching ventilation holes in the foam, cutting, sewing or packing. We've got a great system going, so everyone always knows what they're doing. 
In the rare occasion that an unusually large or urgent order comes through, we power through together as a team to push it out on time, but we generally have enough stock on hand that we don't need to.  
Which Babyrest products do you and your team manufacture in Melbourne? 
We create the Babyrest Junior Pillows, DuoCore, ComfiCore and travel mattresses, as well as both standard and premium change mats. The Junior Pillows and DuoCore mattresses are definitely our most popular orders! 
The dual sided DuoCore baby and toddler mattress is one of the signature Babyrest products. Walk us through the process of creating one: 
One of the DuoCore's key features is its ventilation channels, so once we receive the foam from our supplier, the first thing we do is punch the ventilation holes using a machine. The DuoCore is available in a range of sizes, so after laying out the fabric, we need to cut it according to those measurements. We then need to cut the corresponding zip lengths, overlock and sew the cover, including labels.  
Next we remove the foam holes to open the ventilation channels, add stickers to indicate the baby and toddler sides and slip the cover over the mattress before placing it in a bin for our dispatch team to collect. The DuoCore mattress is actually my favourite to create; slipping the cover on is so satisfying! 
Read about how How we design baby mattresses (and other essentials).
What is the process of creating Junior Pillows like? 
We have five different Junior Pillows, which are all created slightly differently. For example, the Junior Pillow - Support has a foam core in the centre, so we need to cut the wadding to place the foam inside, before we place it in a 100% cotton cover. Meanwhile, the premium Junior Pillow – Ventilated + Bamboo requires ventilation holes punched into the foam before it is inserted into the wadding and a bamboo pillowcase (which is cut and sewn onsite). 
Are they made on demand? 
To a degree: we aim to have at least 4-6 weeks' stock available. This is an important balance between supplying fresh stock to the market, whilst providing enough buffer to reduce the risk of any supply issues of raw materials. Most of our raw material suppliers are local which helps to minimise this. 
By maintaining reserve stock and largely relying on local raw material suppliers, orders can be processed smoothly, even in the event of large bulk orders and international freight delays due to situations like Covid-19. Read our blog explaining stock availability and shipping delays. 
What are the benefits of choosing Australian-made products for a nursery? 
Australia has such high quality and safety regulations, that so much testing goes into these products to make sure that they are as safe as possible for our little ones. You know that there's no shortcuts and every effort has been taken to ensure a high level of quality assurance. It's a no-brainer really. 
I'd definitely recommend Babyrest products to new or soon-to-be parents, because I know first-hand what goes into them. I know that they will last longer and really are worth your money. The DuoCore in particular has the really good design of dual sides, making it last longer than many other mattresses, as well as the reinforced sides for extra safety.  
Read our blog about the (many) benefits of choosing Australian-made. 
Above: Mai and her team celebrating Australian Made week
How does being a parent yourself impact the way you create nursery products for safe sleep? 
I take extra care. I'm a mum of two, so I can relate to mums out there because I've been there. I know that sleep is number one - if everyone gets enough sleep, everyone functions at 100%. It will always be a priority, even after your child's early years, so creating baby sleep essentials that are both safe and comfortable is important.  
What do you like most about working at Anstel? 
Being a busy mum, it's really hard to find a job that accommodates your needs and offers flexibility. The company really caters to women, and helps employees balance family priorities with work.  
I also really like my team. Even though I manage them, it feels really equal. Everyone is really lovely, respectful of each other, so knowledgeable with lots to offer the business, and we work together really well. 
Shop the Babyrest 'made in Melbourne' range: 
Anstel has a team of passionate expert representatives. Get in touch with us today with any questions about nursery sleep essentials. 
More Aus-made related articles:
Keep reading: