Why choose Australian made?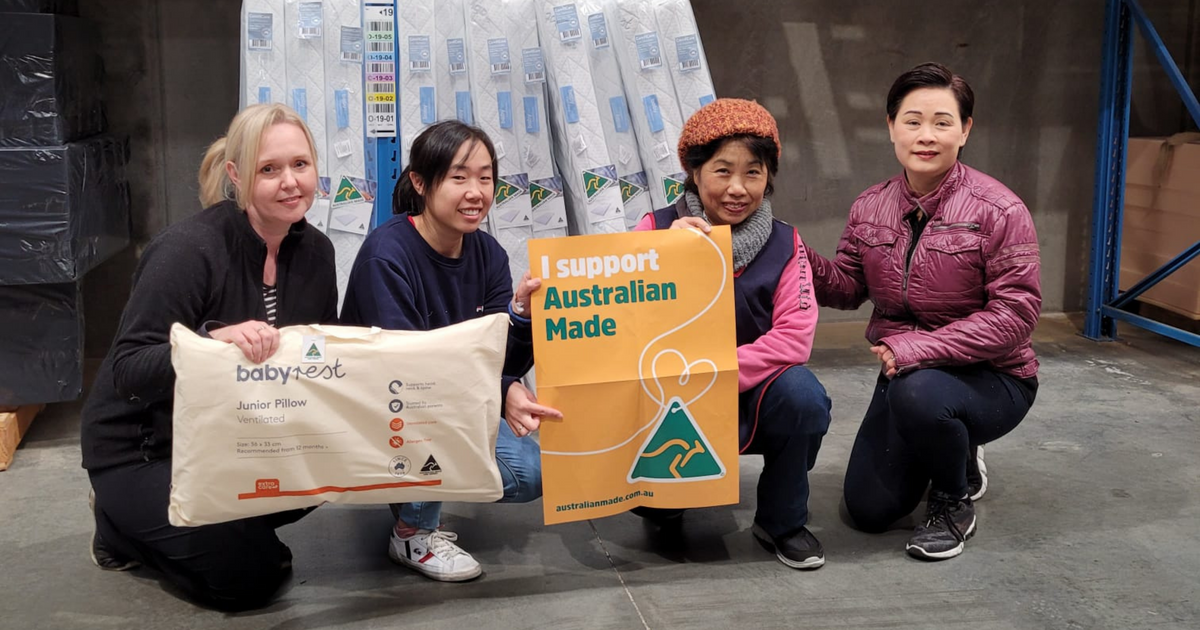 Over 40 years ago, Babyrest started out manufacturing a range of baby sleeping products in Australia, guided by the principles of high-quality materials and safe sleeping products. Today, Babyrest is still owned and operated by the same Australian family and the range has expanded out to include most of the essential sleeping products you will need for your baby. 
Today, more than 80% of our bedding range is still manufactured right here in Australia, by real parents and grandparents who want the very best for babies, just like you.  
As parents ourselves, we understand that new parents need to be assured of the quality of the sleeping products they buy for their baby. By manufacturing these products in Australia, we can ensure the best quality control, from the sourcing of raw materials, to the manufacturing process, to packaging the goods ready for dispatch. 
Australian made is the gift that keeps on giving 
With countless online stores at our fingertips 24/7, considering a product's country of origin may not always be top of mind when considering your purchase.  After all, with express shipping, does location even matter? 
You may be surprised to learn just how much it does - especially when it comes to baby products. Join us as we unpack how choosing local not only benefits your family, but also other local families, the economy and even our environment.  
Quality and safety you can count on 
When it comes to your little ones, safety is paramount. Choosing Australian made is the smart choice for your family; not only does Australia have incredible designers, engineers and manufacturing facilities, but we also have some of the strictest safety and quality standards in the world. This means that products are created using high quality resources and materials, and undergo extensive safety testing before they land on the shelves. 
When you see an 'Australian Made' sticker, you can rest assured knowing that the product complies with these standards. It's not worth taking a gamble with your baby's safety – choose products you can trust and rely on. 
Support Aussie businesses and local families 
Did you know that when purchasing Australian made products, you are supporting more than just a business? 
You're keeping money in Australia, thereby helping build our economy

By creating demand, you're also creating local jobs and keeping valuable skills in Australia

You know for a fact that everyone who has worked on creating the product received a fair wage, in safe working conditions

You are supporting Aussie families across a range of diverse industries – from farmers, to truck drivers, engineers, manufacturers and more
Following the pandemic's hard-hitting effects on many industries across the country, stimulating the economy is more important than ever. Building up our economy benefits everyone; after all, 'what goes around comes around'… 
Faster turnarounds and lower delivery costs 
By cutting out significant shipping time and dependency on the international supply chain, we are able to offer shorter lead times, and more reliable access to raw materials. Our manufacturing facility in Melbourne can have high-quality products ready for dispatch within as little as one to two weeks from raw materials to finished product, compared to the average four to six months when imported from overseas. This was particularly evident during the height of the pandemic when many international products experienced significant delays. 
For more in-depth information, read our blog that explains how our stock availability and shipping works. 
Improved sustainability 
Unsurprisingly, not shipping products halfway across the world is far more earth-conscious! Bonus points if the materials, like our genuine Australian wool products, are sourced in Australia as well.  
Did you know that supply chains have some of the world's biggest (yet most overlooked) environmental impacts?  
As a society we have a long way to go when it comes to sustainability, but every little decision like choosing Australian made takes us in the right direction and helps us leave the world a little better for our children. 
Quality, hands-on customer service 
At Anstel, you can get in touch with our team directly for friendly, prompt and efficient support. 
Manufacturing products here in Australia also provides us with the capacity to meet your specific requirements. Our team can manufacture custom size cot mattresses, bassinet/cradle mattresses and change mats to suit your exact sizing requirements. It also enables us to ensure we can provide your required items within a short time frame. Locally-made products are rarely out of stock; when they are, it is only for a few days at most.  
Below is a short clip of the manufacturing process of one of our featured products, the Babyrest DuoCore Cot Mattress, made in Melbourne, from Australian components. 
How to know if something is genuinely Australian made 
When it comes to labeling, Australia is a stickler for the rules and keeping to the facts. That's great news for consumers! It means when you see the familiar 'Australian Made' logo, you can rest assured that the product's country of origin claim is authentic. To earn the prestigious 'Australian Made' green and gold triangle, each product's manufacturing and supply chain process must be reviewed and approved by the good folks over at Australian Made Campaign Ltd.