Should I buy a foam cot mattress? Dispelling common misconceptions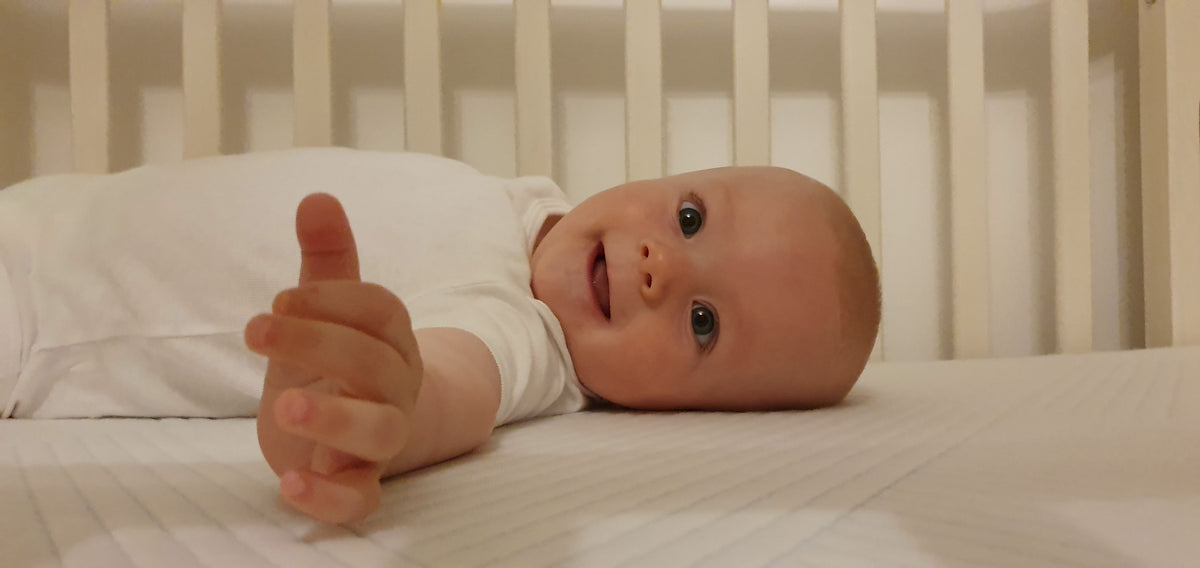 We've been designing cot mattresses for over 40 years and we've learnt some things along the way. Considering that your new baby will spend up to 65% of their first 12 months sleeping, it's important that you consider this item carefully.
Most cot mattresses can be grouped into two main categories – innerspring core or foam core. You can read more about that here. When it comes to foam cot mattresses, we've found that many new parents or parents-to-be have some common misconceptions. In this article, we cover off on the main misconceptions.
Misconception 1: Foam mattresses are too soft and are unsafe
This depends on the firmness of the foam used for the core of the cot mattress. Babyrest cot mattresses have been independently tested by a certified test laboratory in Australia and they pass the AS/NZS 8811.1:2013 Test for Firmness. Mattresses in Australia are not required to meet this standard by law. It is a voluntary standard that has been developed to provide consumers with extra information in relation to the safety of their mattress.
This test involves checking how far a baby sinks into the mattress. If it sinks below the recommendation, it is unsafe and does not pass the test. However, Babyrest believes that safety does not have to be at the expense of comfort. Therefore, our foam cot mattresses have been developed to provide the right balance of support and comfort.
Support, meaning that it is firm enough for your baby's safety and provides the correct support for development of your baby. Comfort, meaning it provides the right surface for your baby to have comfortable sleep. Many mattresses in Australia would pass the firmness test, but they don't provide the level of comfort your baby deserves.
Misconception 2: Polyurethane foam is not a safe material for my baby to sleep on. I have read negative information regarding VOC's released from foam.
Polyurethane foam is a safe material for your baby to sleep on. In fact, most innerspring mattresses would have polyurethane foam as an overlay on the springs and/or in the quilting of the fabric. So whether you choose an innerspring mattress or a foam mattress, both would have elements of polyurethane foam.
The foam used in Babyrest foam cot mattresses is safe for your baby. The foam has been independently certified by Global Greentag as being 'Considered Safe to Use' and having 'Healthy VOC levels'. Most products would emit some VOC's; our foam has been tested to ensure the level of VOC's is safe.
Misconception 3: I have read that mattresses can emit toxic fumes that are harmful to the baby. Is this true?
There is no evidence to substantiate this claim. Red Nose is considered the leading authority on safe sleep in Australia. They are an independent not-for-profit organisation with a goal to reduce the number of babies, toddlers and pre-schoolers who die suddenly to 0. They have a National Scientific Advisory Group that is made up of experts in the fields of infant and child safety.
Based on their research, they formed the view that there is no evidence to prove a link between 'toxic gas' from mattresses, and Sudden Unexpected Death in Infancy (SUDI). You can read more in this article.
Misconception 4: I have heard that foam mattresses have to be fumigated. Will this leave chemicals in my mattress that are unsafe?
Babyrest cot mattress have not been fumigated. This is a common misconception. If timber furniture is imported into the country, it sometimes requires fumigation (depending on the material and the source) to ensure nothing harmful is brought into the country. It is common for furniture importers to also import mattresses and ship them together with the furniture.
In the case of a shipping container with furniture and mattresses in it, where the furniture requires fumigation, the mattresses will also be fumigated. Out of this has arisen a misconception that all foam mattresses have to be fumigated. Babyrest foam cot mattresses are assembled in Australia, using Australian made foam. There is no requirement for these mattresses to be fumigated.
Babyrest has a range of cot mattresses, including innerspring and foam core. You can see the range here. We would be more than happy to assist you with this very important purchase and discuss the options in more detail. Please don't hesitate to contact us today.
Next, read about the Babyrest DuoCore Bamboo Cot Mattress. An innovative new mattress combining form, function and safety in a single solution, without compromising on comfort.
Keep reading: