How easy is it to switch from single to double mode on a convertible pram?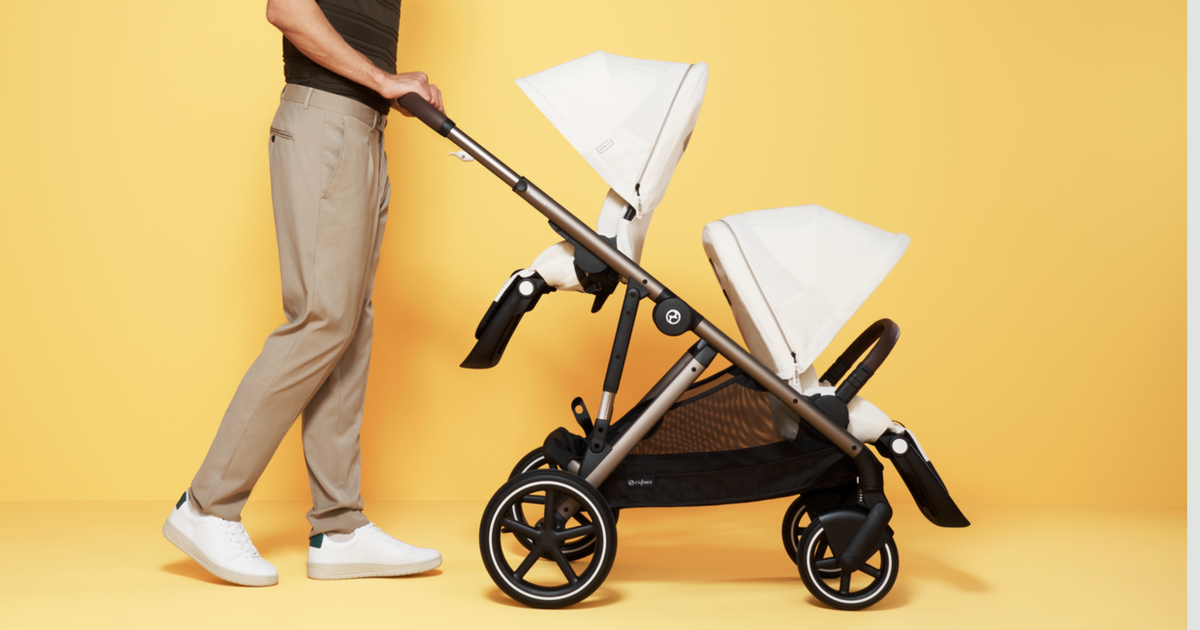 If you're looking for a convertible pram that allows you two switch between a single seat and two for siblings or twins, chances are you've come across the Cybex Gazelle S. With its host of incredible features and versatility, it sounds like a parent's dream!  
But how easy is it to switch between modes once it has been set up?  
Is it a two-person job, or something that you can change on the go if your toddler gets fussy? It can be hard to discern online without a demonstration, so we've made this just for you. Spoiler alert: it's incredibly easy. Keep reading to find out just how quick and efficient the process really is (because we know that every minute counts when you've got an impatient toddler wanting to get around!).  
 

Get to know the pram that grows alongside your family
Before we dive into the nitty-gritty of swapping modes on your Cybex Gazelle S pram, let's take a moment to appreciate its versatility. With 20+ configurations, integrated single-to-double adapters, market-topping 23kg of storage and ability to fold with the seat/s facing in either direction, there's a configuration that's ideal for your family's unique needs and preferences.  
The Gazelle S is designed to grow with your family, making it perfect for expectant parents planning for the future. It effortlessly transforms from a single stroller to a double stroller, ensuring you have the flexibility you need for your expanding family's changing needs.  
Whether you have one child or multiple, effortlessly switching between seat configurations and single to double modes couldn't be easier. 
Single mode: Setting up for one
Starting with single mode, here's how to get your Gazelle S pram ready when you only have one child to transport. 
Begin by making sure your adapters are set to single mode. In most cases, this is the one dot • position. Next, connect your attachment (carry cot, capsule or seat) to the Gazelle S pram frame. The Gazelle S seat is comfortable, ergonomic, and can be positioned either parent-facing or forward-facing. Secure the seat onto the frame by aligning the connectors and pressing down until you hear a click. Make sure it's securely in place. 
Ensure that the harness is properly fastened to keep your child safe and secure. The Cybex Gazelle S 2023 comes with a one-pull harness system, making it easy to loosen or tighten the harness with just one hand. With individual strap connections, you can now plug each of the four straps into the buckle separately.   
Double mode: Adding a second seat 
Now, let's explore how to transition your Gazelle S pram into double mode for those days when you need to accommodate two pint-sized passengers. Watch the video below for a practical 'how-to' guide: 

In summary, to add the second seat, first set up your lower adapters by pressing the white button and flipping the adapters over to face upwards. Next, place the attachment you would like at the bottom into the lower position. Make sure to hear the click so you know that it is securely fastened. Next, slide the upper adaptors up into the two dots •• or three dots •••  position (reference your cheat sheet in the user manual), and attach the upper attachment, ensuring you hear the click to know it's locked in securely 
This process takes one person less than a minute once they know what they're doing and applies to all attachments – seats, carry cots and capsules. (Note: when using capsules you will need to use the capsule adapter before attaching the capsule). It's easy enough to change between modes or seat directions multiples times a day without breaking a sweat! 
Just like in single mode, you have the flexibility to choose the seat direction that works best for your family's needs. Whether you want your little ones to face each other, face you, or explore the world ahead, the Gazelle S has you covered. While younger children might feel more comfortable and secure facing you, older siblings might prefer looking forward.  
Tips and tricks
When swapping between configurations, it's important to ensure that the pram is on a level surface and the brakes are engaged.

 



Always double-check that all connectors are properly engaged before using the pram. Click = safely attached ✅

 


The Cybex Gazelle S pram is compatible with various infant car seats, including the

Cybex Cloud Q capsule

, making it a convenient choice for travel. To attach a capsule, simply use the adapters (separate purchase) and secure the car seat onto the frame.

 


Did you know it's safe to use the Gazelle S single mode in two dots

•• position? (With the

carry cot and capsule

only). This allows you to bring baby closer to you for a better parent/ child connection – not to mention it's more ergonomic for you!

WARNING

: NEVER use the

seat

in the two dots •• position in single mode. This is because of the potential for increased weight and/or different weight distribution when using the seat.

 



Increase the comfort levels by personalising your pram with accessories like a cup holder, a snack tray, rain cover, mosquito net, summer seat liner or winter footmuff to make your outings even more cosy enjoyable for everyone.

 
 
As expectant parents, your journey into parenthood is an exciting adventure. With the Cybex Gazelle S pram, you have a versatile and reliable companion to make the transition from single to double mode a breeze. By following the simple steps mentioned above, you'll be well-prepared for the changing needs of your growing family (whether that's every few months or every few hours). 
With the right tools and a bit of guidance, you're well on your way to creating beautiful memories and providing the best for your little ones. Enjoy every moment! 
Anstel has a team of passionate expert representatives. Get in touch with us today with any questions about your pram purchase.   
More pram and capsule blogs:  
Keep reading: