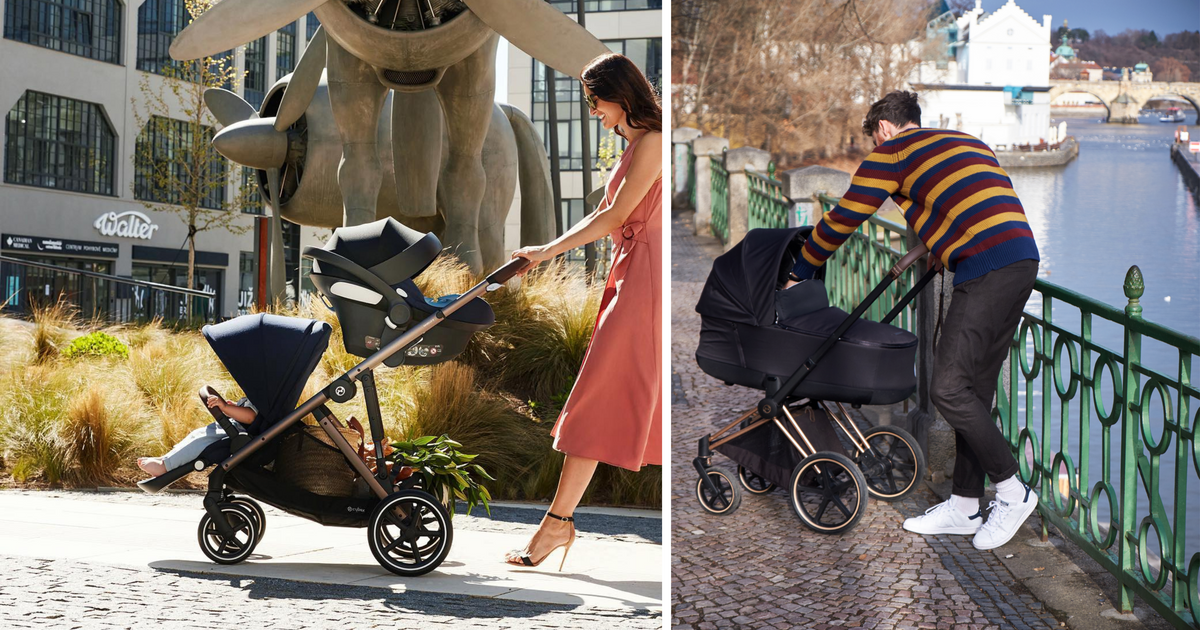 Choosing a pram can be a daunting task for parents-to-be. With so many great options available, all with differing functionality and styles, it can be hard to narrow down your choices. One important decision is whether to buy a single pram, or a pram that can be converted from single to double. If you make this choice early, this will narrow down your options and make your pram purchase journey a little easier. 
What is the difference between a single and double pram?
A single pram is just that - a pram that only allows for 1 seat or bassinet/carry cot. Typically suitable from newborn through to approx. 4 years of age. Most prams have the option of attaching a toddler board so a second child can stand or sit (depending on the board) on a board attached to the rear of the pram. 
There are 2 main categories of double pram:
Side-by-side
Side-by-side double prams offer 2 seats next to each other and are best suited for twins. The seats are typically narrower than a single pram, and the overall pram will be quite wide. The benefits of a side-by-side pram is that it offers the 2 children equal seats and equal views. They can also see and interact with each other. However, due to the width of the pram, they are less maneuverable and take up a lot of space. They are not very convenient in shopping centers or congested areas. They are usually quite bulky when folded. Typically, side-by-side prams are not convertible i.e. they can't be used in single mode and double mode, they are always in double mode. Therefore, if you have 2 children of differing ages, once the older child grows out of the pram, you will need to purchase a single pram or stroller for the younger child. For this reason, non-convertible side-by-side prams are best suited for twins, not 2 children of differing ages. There are some options for prams that convert from single to double however the options are limited, and they are still quite wide, bulky and heavy.
Tandem (inline) double prams
Tandem prams are approximately the same width as a single pram. The 2 seats are in line with each other - so one child sits behind the other. Due to the width, it is much more maneuverable than a side-by-side double pram and takes up less space. The downside is that one child may not be able to see out of the pram, or the position of the seat may seem a little cramped. Of course, this depends on which model/brand of tandem pram you purchase. 
Future proofing
Often the decision to purchase a double pram is based on future proofing (unless, of course, you are having twins - in that case you don't have much option). If you are expecting a baby and planning to have another baby within 3 years, then a convertible double pram is well worth considering. A convertible double pram starts off as a single pram for when you have one child. When the second child comes along, you can purchase a second seat, bassinet/carry cot or car capsule and use the pram for both children. Once the older child grows up, you can easily convert back to a single pram. Therefore, with children close in age, a convertible double pram can save you from the cost and effort of buying 2 prams - a single pram, for your first child and a double pram for your first and second child.
There are some drawbacks to buying a convertible double pram: 
When a convertible double pram is in single mode, it still has the same frame as a double pram. Therefore, it is likely to be longer and heavier than a single pram.
Convertible double prams tend to be less stylish than single prams. The design focus is more about functionality than style. 
One other point to note is that a convertible double pram typically has more storage space when in single mode, than a single pram would have. Therefore, if you purchase a convertible double pram and never need to use it as a double pram, you will still get the benefit of larger storage space.
To summarise, here are the main things to consider:
If you are expecting your first child, how soon would you plan to have a second child? If it is more than a 3 year age gap, then you are not likely to use a double pram much. You could consider a single pram and purchase a toddler board when your second child comes along.
If you are planning to have a second child less than 3 years after your first child, a convertible double pram is likely to be a good choice. However, make sure you choose a pram that you are happy with in single mode. Otherwise you may regret purchasing a double pram just for the sake of future proofing, when there was a single pram that you really would have loved to buy.
If you are expecting a child that is not your first, and the older sibling is less than 3 years old a convertible double pram is likely to be a good choice for the reasons stated above. In this case you will use it as a double pram, and then convert to a single when the older sibling grows up. Therefore, when you buy your convertible double pram, make sure you consider the second seat and bassinet/carry cot.
When considering a second seat or bassinet/carry cot, also consider the use of a capsule. Many convertible double prams are compatible with car capsules. Consider the scenario of an older sibling who is around the age of 3, and a newborn baby. Instead of buying a second seat or bassinet/carry cot you could utilise a car capsule. Tthe older sibling sits in the seat, and the newborn lies in the capsule. Once the newborn outgrows the capsule (at around 6 months), the older sibling may be ready to use a toddler board and the pram could be converted to single mode. Therefore, this would save you purchasing a second seat or bassinet/carry cot.
We hope this article helps you in your exciting but daunting journey of purchasing a pram. At Anstel, we have some great stylish and functional prams available - both single and double. Get in touch if you require any assistance. 
Next, read our comparison between two of the most versatile tandem double prams - Cybex Gazells S vs UPPAbaby Vista V2
More pram-related blogs you may find interesting: 
Nursery tips and tricks: