"So soft and lush" Why parents love the Babyrest lambskin rug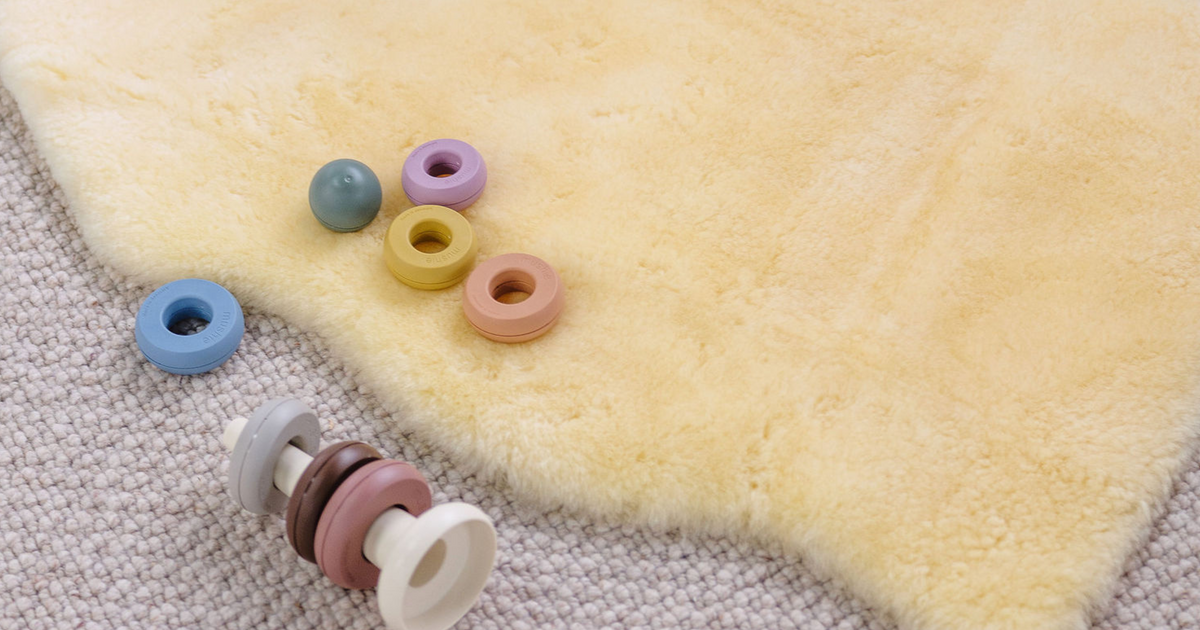 "...perfect for our son during both the winter and summer months" 
"Extremely soft, anti-bacterial and perfect size for a baby." 
"...the perfect size for tummy time" 
"It kept her really warm and cosy without any sweat or discomfort." 
Lambskin rugs have been popular nursery essentials for generations due to their versatile nature. Incredibly soft to the touch and warm in winter, they can be a cosy addition to the floor, rocking chairs and even highchairs, adding an extra layer of comfort for both baby and parent.  
Where they truly shine, however? (Supervised) tummy time!  
Super lightweight and easy to transport around the house, garden or even grandparents' houses, you can place a lambskin rug wherever you are, adding an extra layer of cushioning to your wood, tile or carpeted floors. Can you imagine a softer surface to learn to roll over on? Not to mention babies love the texture of the wool between their fingers, with the rug's sensory qualities also offering a soothing effect for anxious tots.  
It's important to note that while this is a texture your baby is sure to enjoy, it does require active supervision when used. Any products with woolen strands can pose a hazard to babies and toddlers should they put it in their mouths or roll onto it face-down.  
Asthma and allergy friendly, and made from Australian short pile wool, Babyrest natural lambskin rugs offer all season comfort to help your little one stay comfortable all year long! 
Read Tummy time: What is it and how do you get the most out of it?  →
Learn more about Babyrest lambskin rugs: 
What is the difference between lambswool, lambskin and sheepskin products? 
'Lambswool' is simply used to differentiate products made from sheep younger than 12 months whose incisor teeth haven't come through yet and whose wool hasn't been shorn before. This wool is ideal for nursery products such as cot quilts and underlays.  'Lambskin' refers to that same wool, but when it is still attached to the pelt, such as in the case of rugs. 'Sheepskin' refers to pelts from mature sheep that have already already undergone at least one shearing. It has thicker and longer hair than lambskin.  
When it comes to baby products such as rugs, lambskin is also trimmed to a shorter length compared to popular 'shaggy' style sheepskin rugs, with extra care given to ensure the fibers are very securely attached to avoid any potential choking hazards.  
Because baby and toddler products often require frequent machine washing and drying, these hides also require special tanning and processing to ensure they last for years to come! Babyrest natural lambskin rugs are processed using the Relugan method, offering a safer, non-toxic alternative to other commonly used processes. 
With both lambskin or sheepskin rugs you'll notice that they usually have slightly irregular shapes, making it harder to give exact measurements. While Babyrest rugs are largely uniform, you may notice some small differences in shape if you lay them next to each other, simply due to the natural cut of each lamb's pelt. It's these organic differences that not only make each product unique, but actually adds to their appeal.  
Why is wool such a great textile for your baby?   
As an organic fiber, wool is not only a more breathable alternative to many synthetic fibers, but is also warm in winter and cool in summer. This natural insulation plays an important role in keeping babies comfortable year-long, as they are not old enough to regulate their own body temperatures just yet.  
Wool is also one of the most absorbent natural fibers used for cloths and bedding, able to contain up to 30% of moisture before feeling wet. Compare that to the meagre 4% most synthetics can absorb. Midnight sweats or little accidents? No worries: the wool can help absorb the moisture away from your baby, keeping them dry for longer.  
 Did we mention that wool is also naturally hypoallergenic and resistant to dust mites? For little ones with sensitive skin, skin conditions like eczema, or those suffering from allergies and asthma, this can make a world of difference. Whether crawling or doing tummy time, the more comfortable they are, the happier they'll be (and for longer)! 
How do you keep lambskin rugs clean, soft and fluffy? 
Babies and toddler can leave things... sticky. So how do you care for  lambskin rugs? Wool is a natural fibre, so as long as you are kind to it, it will offer your little one years of comfort. Air it regularly to keep it fresh, but if you need a deeper clean, simply wash it by hand using an approved lambskin detergent and line-dry out of direct sunlight. Avoid bleach and fabric softeners. After washing, brush lightly to restore its fluffy appearance. It's that easy! 
While we could keep raving about the benefits of choosing quality lambswool products, sometimes reviews just speak for themselves... See what real Aussie parents have to say about the Babyrest lambskin rug:  
Tura 
Natural Lambskin Rug 
"This was perfect for our son during both the winter and summer months. Put underneath a fitted sheet and a mattress protector for comfort. We have another that we use for tummy time and he loves the feel in his body and fingers. We also used it in the pram during the colder months whilst he was still a newborn." 
 
John 
Natural Lambskin Rug 
"This lambswool is of extremely high quality. Extremely soft, anti-bacterial, and perfect size for a baby." 
 
Monica M 
Natural Lambskin Rug 
"Gorgeous quality and so soft. Much nicer than lamb skins I have purchased from other brands." 


Ashleigh J 
Natural Lambskin Rug 
"We love our sheepskin underlay. It's perfect for the cooler and warmer months and adds just that bit of extra padding under the sheet for bub! We have passed ours down throughout our children and it is still in immaculate condition! As you can imagine, it is very soft." 
  
Chanel 
Natural Lambskin Rug
"These mats are extremely durable, thick and soft. They are the perfect size for tummy time and they add a soft layer under the baby to make them feel secure. I use mine under my little ones play mat and under him when he is in his bouncer. I find them breathable and I have even washed mine and found it returned to its original texture and colour." 
 
Mia 
Natural Lambskin Rug 
"We got given this one and I use it on the feeding chair in my baby's room. It's so cosy and soft and makes feeding time much more comfortable for me. When my baby is older I will put it in his playroom in a reading nook. It's really versatile like that." 
 
New M 
Natural Lambskin Rug 
We have the lambswool on the floor of our nursery it's a lovely decor piece that finishes off the room well it's also good when he's crawling around his room because it's so soft and lush and nice for him to play on. Not the cheapest thing but so warm in winter and nice and cool in summer to roll around on. 

Marisa  
Natural Lambskin Rug 
"Somebody said that a lambskin would be essential for baby and be used every day. I was given a Babyrest branded lambskin and they were right. We use it after our bath when dry to get dressed, to lay on our small couch with at night and watch movies, at friends houses in the portacot to provide that extra reassurance and comfort of home. It rolls easily and has not developed any odour with minimal wear after almost two years. The only issue I hold is with the light and somewhat impractical colouring. Everything shows up on this and it does not stay white for long." 
 
Lloyd 
Natural Lambskin Rug 
"Bought her a Babyrest lambskin for winter. It kept her really warm and cosy without any sweat or discomfort. It is light so gets dirty alot, especially when she was little. She used it for tummy time and as she got older to lay on and watch tv or read. It doesn't smell and cleans with some simple bicarb and sunlight. Would buy and use again for sure." 
Discover the Babyrest wool range:  
Anstel has a team of passionate expert representatives. Get in touch with us today with any questions about your nursery sleep essentials!   
Learn more about our Australian range:  
Keep reading: