Are drop-side cots safe and how do they compare to fixed-side cots?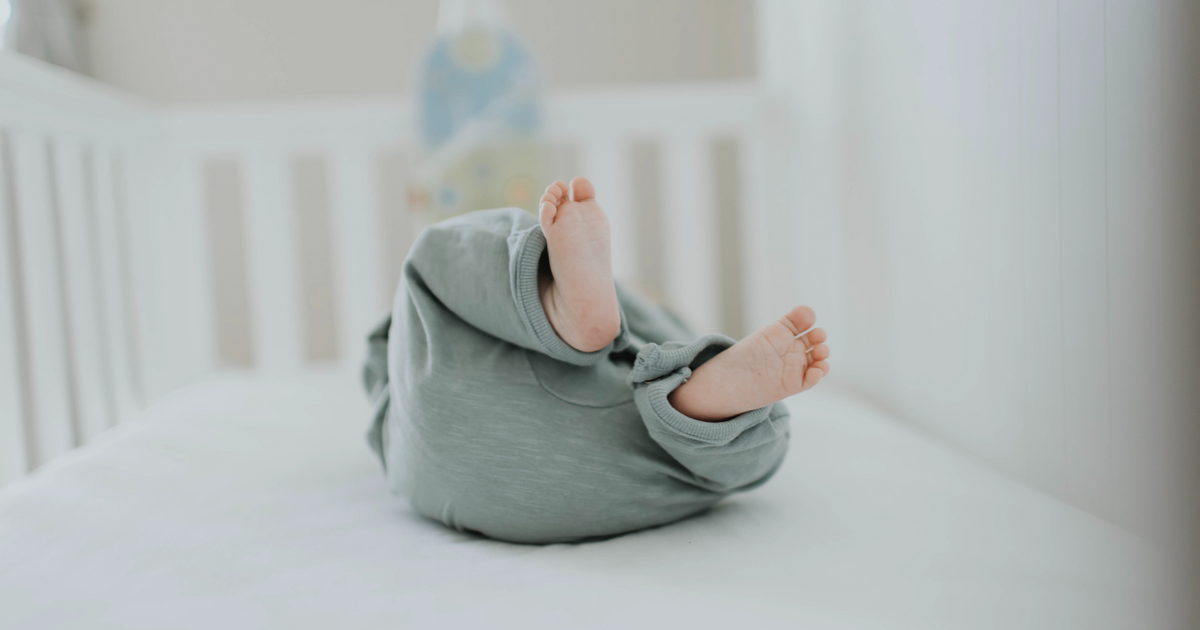 Are you looking for the right cot but are confused about the conflicting messages surrounding the safety of drop-side cots? Your parents may even have used one for you, but now you see articles questioning their safety.  
So, are they safe or should you avoid them? That's a common concern shared by soon-to-be parents.  
In short, while they have been banned in some countries like the USA since 2011, and Canada since 2016, they are allowed to be sold and used in Australia if they meet the Australian Standard (AS/NZS 2172:2010) and have been assembled correctly. In fact, you will still find them in many retailers. 
Join us as we unpack the pros and cons of drop side cots compared to fixed side cots, as well as clarify where exactly Australia stands on the safety of this cot style. 
What are drop-side cots and why do people like them? 

Drop-side cots have mechanisms that enable one or both side panels to be lowered, making it easier to reach your child. The side can then be returned to its normal height for safety when your little one is inside. 
Still widely available in Australia and popular for generations, it's no surprise that many new parents are looking into drop-side cots. The people most drawn to it however are petite parents, as well as mums who have undergone a C-section surgery, as the adjustable sides of drop-side cots can reduce the need to bend and lean as far over the cot rails, making it more comfortable and accessible. 
 
Does that sound like you?  
Would it surprise you to know that you won't actually need that feature as much as you think you will? Let us explain. 
 
For the first few months, the cot will be in bassinet mode, meaning the base is higher and your baby is much easier to reach as you lay them down and pick them up. This is much more convenient especially throughout the post-birth recovery period! In this position, reaching your baby is similar to reaching into a traditional bassinet, with a higher base and lower side barrier, minimising how far you need to lean . 

It's only once your little one begins to sit up, pull themselves up to a standing position, or shows signs of attempting to manoeuvre their way out of the cot that you will lower the base to toddler mode for their safety. What you may not realise as an expectant parent is that small children actually want to be lifted out of their cot ASAP (and often very vocally!) once they wake up. This means that it's very rare that you would need to bend too far when the cot is in toddler mode, as they will usually be sitting or standing with their arms up anyway.  
 
While the height of a fixed-side cot may appear intimidating if you see one in a shop, you can always ask someone to show you the height difference between bassinet and toddler modes to help you better visualise the process. If you have any friends or family with babies or toddlers, this could be a great time to ask if you could witness a naptime wake-up session. Seeing it for yourself can help you figure out what will work best for your needs! 
Above: A drop-side cot in drop mode 
What are the safety concerns of drop-side cots?
Safety concerns regarding drop-side cots have led to their ban in some countries including the US and Canada, and it's essential for parents in Australia to consider these factors before purchasing one. Here are some of the key safety issues associated with drop-side cots: 
Entrapment and strangulation:

 


One of the most significant safety concerns with drop-side cots is the risk of a baby becoming trapped or entangled between the moving drop-side panel and the cot mattress or frame.

This can lead to suffocation or strangulation. 


 

Malfunction:

 


Unlike fixed-side cots, the hardware of the drop-side mechanism can wear out or break over time, leading to unexpected dropping of the side, potentially injuring or trapping the baby. A significant safety concern is the unintentional dropping of the side, either due to loosening hardware or from a curious child managing to lower it. Such malfunctions can lead to dangerous gaps where a child might become trapped, especially between the mattress and the slats. This isn't just theoretical; there have sadly been

instances where such situations have unfortunately arisen

.

 


 

Assembly errors:

 


A drop-side cot with its moving parts that has not been assembled correctly poses a greater safety hazard than that of a fixed-side cot that has not been assembled correctly.

 


 

Lifespan considerations:

 


With moving parts in play, some drop-side cots might not have the same lifespan as their fixed counterparts. It's a mix of the design and how those movable parts withstand the test of daily use. This is particularly important to note if you plan on reusing the cot for future siblings or selling it when no longer needed.

 


 

Material considerations:

 


Timber, though aesthetic and ideal for fixed-side cots, could pose issues when moving parts are involved. Slight movements in the whole timber panel might result in service problems, one of the core reasons some brands, including ours, have decided to innovate away from such designs. Plus, it's worth noting that the drop side mechanism tends to feel a little clunky compared to its fixed counterparts.

 


 
Given these concerns, parents in Australia should take the following precautions and considerations when choosing any cot, but especially when considering a drop-side cot: 
Compliance with Australian Standards:

 


Ensure that the cot you choose complies with the latest Australian safety standards. Look for the AS/NZS 2172:2013 standard, which outlines the safety requirements for cots.

 


 

Carefully follow assembly instructions:

 


If assembling the cot yourself, it's particularly important to follow the manufacturer's assembly instructions to ensure proper setup of all the moving parts.

 


 

Check for recalls:

 


Research the cot brand and model to make sure it has not been subject to any recalls for safety issues. This is particularly important if you have purchased or received the item

secondhand and don't know it's full history

.

 


 

Regular inspections:

 


If you already have a drop-side cot, perform regular inspections to ensure that all parts are in good working order and that there are no visible hazards, loose or broken parts.

 


 

Mattress fit:

 


Aways ensure that the mattress fits snugly within the cot, leaving no gaps that could create an entrapment risk.

 

 

 


Prioritising safety when choosing a cot is crucial to creating a secure sleeping environment for your baby - but especially when dealing with cots featuring moving parts. While drop-side cots may still be available in some regions, it's generally advisable to choose a cot with no moving parts to minimise safety risks. 
In a nutshell? Aussie parents, you're not alone in your quest for ensuring the best for bub. Drop-side cots, while convenient, come with their own set of considerations. Arm yourself with knowledge, understand the nuances, and make an informed choice that aligns with your family's needs. The end goal? Crafting a safe, dreamy haven for your little one to sleep well. 
Above: Babyrest fixed-side Hague 3-in-1 cot and chest duo in bassinet mode 
What is a safe sleep environment for your little one?
Nothing is more important than your child's safety when considering their sleep environment. So, what exactly constitutes a safe sleep space?  
Look no further than the guidelines laid out by Red Nose, the trusted Australian voice on infant sleep safety. They advocate for close attention to detail: every potential sleep hazard must be addressed. In short, "A safe sleeping environment means that all potential dangers have been removed and the baby is sleeping in a safe place. The ideal place for a baby to sleep is in a safe cot, on a safe mattress, with safe bedding in a safe sleeping place, both night and day." 
The centerpiece of this safe haven? A cot that meets the rigorous AS/NZS 2172 Australian Cot standards. Inside this certified sanctuary, ensure a firm, secure mattress and carefully chosen bedding. All this should be set up in a room that's been meticulously scanned for potential dangers, both during sunlit naps and nighttime dreams. 
While all cots sold in Australia - whether fixed-side or drop-side - are bound to the same Australian Cot standards, the ACCC has advised manufacturers to increase their testing of drop-side cots' integrity, strength and response to force in light of the US's decision to ban drop-side cots. This however is still not mandatory, and the decision to do so falls on the manufacturer's discretion. 
At the end of the day, crafting an ideal sleep environment is an investment in your peace of mind. Because when our little ones are safe, the whole world just seems a bit brighter. 
Above: Babyrest fixed-side Kaya 3-in-1 cot and chest duo in bassinet mode 
Why choose Babyrest cots? 
A third generation, family-owned Australian business with an established legacy rich in safety and innovation, Babyrest cots align with the gold standard of sleep safety, comfort and design excellence for contemporary Aussie families.  
Babyrest's dedication goes beyond merely designing cots; they are crafting experiences. As an Australian brand made with unique Aussie lifestyles and environments in mind, each and every product resonates with the nuances of today's Aussie families.  
Want to peek behind the curtain? Read about how Babyrest designs and manufacture popular items like mattresses and pillows in Melbourne → 
Unlock the Babyrest difference: 
Safety first:

 


Safety isn't an option; it's our mantra. Beyond avoiding drop-sides, every Babyrest cot champions Australian safety standards, ensuring a 50 cm span between the top of the mattress and the cot—even in bassinet mode.

 


 

Built to last:

 


Exceptional durability, pristine materials, and a commitment to longevity define our cots. As your family grows, our cots evolve, seamlessly transitioning to keep pace with your little one's journey.

 

 



Adaptability:

 


Experience the magic of transformation with Babyrest's 3-in-1 cots. From bassinet mode for newborns to toddler mode, followed by the option to extend the life of the cot even further with toddler bed mode for young explorers, they've got every stage covered.

 


 

Height perfection:

 


Their dual-level cots strike the perfect balance. While the bassinet mode prioritises accessibility for infants, the toddler mode caters to the lively antics of older babies. And for our petite parents, rest assured; their designs ensure your baby is always within easy arm's reach.

 


 

Quality craftsmanship:

 


Pure timber, eco-friendly (and lick-friendly!) paints, together with a touch of Aussie design flair, ensure every cot is a masterpiece. Produced in Europe and Malaysia, these cots are a testament to enduring quality and resilience. Give them a knock or a wiggle when you see them in a shop and you'll notice the quality in comparison to so many on the market straight away. We're confident you'll be pleasantly surprised.

 


 

Elegance redefined:

 


Babyrest cots are where sophistication meets function. With their sleek, streamlined silhouettes, they're a harmonious blend of both style and substance. Designed to complement a range of nursery aesthetics, each cot has unique 'main character energy', sure to elevate every space.

 


 
If that sounds great to you, but you still crave even more proximity than a cot in bassinet mode can offer, consider the Babyrest Aria Bedside Bassinet for the early months. The Aria bassinet is the answer for parents yearning for closeness without compromising on safety. For co-sleeper convenience without the danger of actually co-sleeping, the Aria is designed for the first 0-6 months, attaching to your bed and ensuring midnight check-ins and feeds are just an arm's stretch away. 
In essence, Babyrest cots aren't just products—they're a promise. Infused with Australian creativity and international expertise, they're a blend of beauty, strength, and safety. For those who settle for nothing but the best, Babyrest is your answer. 
Above: Babyrest fixed-side Torquay 3-in-1 cot and chest duo in toddler mode 
Discover our range of Babyrest cots: 
 
Design:

Clean Scandi design with timber accents.

 

Functionality:

Suitable from newborn to toddler; converts to toddler bed with the separate Junior bedrail purchase.

 


 
Design:

Radiates natural elegance with contemporary lines and natural wood details.

 

Functionality:

Stylish and functional. Suitable from newborn to toddler.

 


 
Design:

Chic sophistication with an elegant silhouette; constructed from solid timber.

 

Functionality:

Suitable from newborn to toddler; converts to toddler bed with the separate Junior bedrail purchase.

 


 
Design:

Contemporary with Scandi style in neutral grey; open ends and sides for maximum visibility and

airflow.

 

Functionality:

Suitable from newborn to toddler; converts to toddler bed with the separate Junior bedrail purchase.

 


 
Design

: Coastal-inspired with organic wood tones and a soft white palette.

 

Functionality:

Suitable from newborn to toddler; converts to toddler bed with the separate Junior bedrail purchase.

 


 
Design:

Mid-century modern meets Byron Bay; chic tapered legs and rattan accents.

 

Functionality:

Suitable from newborn to toddler; converts to toddler bed with the separate Junior bedrail purchase.

 


 
Design:

Space-saver that folds compactly; easily movable with 4 lockable wheels. Perfect for tight spaces and mobility.

 

Functionality:

Two mattress heights; suitable from newborn to four years; pairs with a special

ComfiCore folding cot mattress

.

 


 
Design:

2-in-1 functionality as a bassinet and co-sleeper; 8 height positions; can be angled for reflux; 360° mesh sides.

 

Functionality:

Wheels to easily move between rooms; enhances parent-baby bonding and assists with night feeds.

 
Anstel has a team of passionate expert representatives. Get in touch with us today with any questions about your cot and nursery essentials. 
More cot related blogs 
 
Keep reading