Introducing the Aria Bedside Bassinet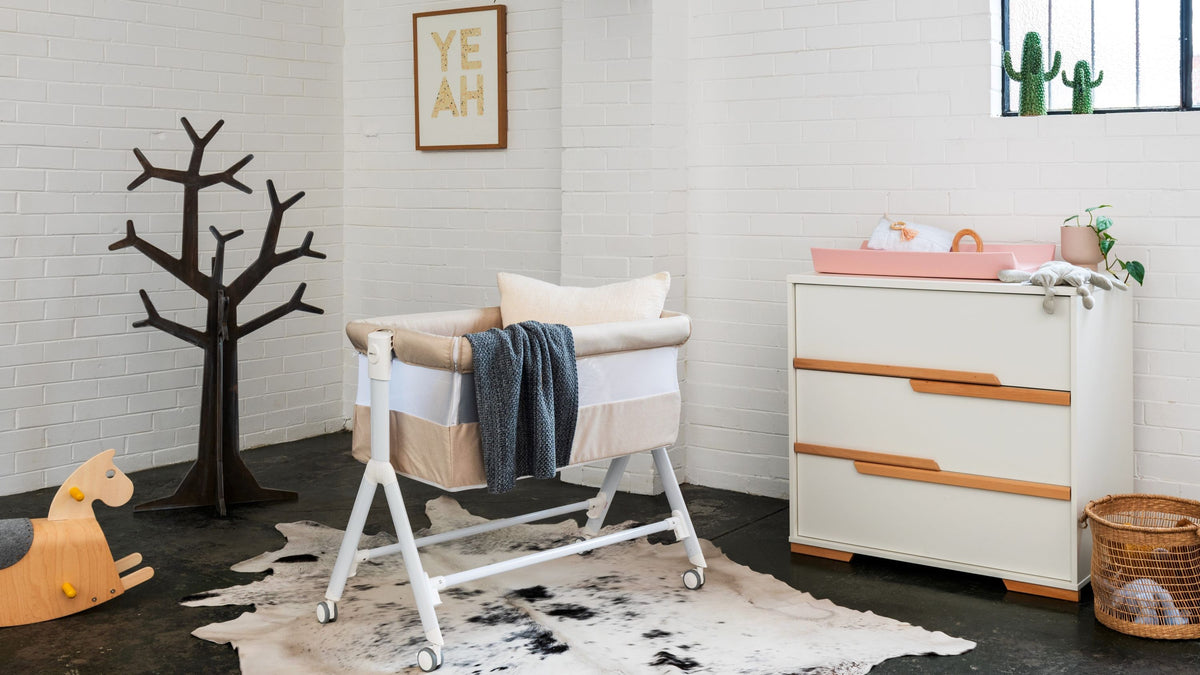 Get a better nights' sleep with baby at your side. 
The Aria Bedside Bassinet is the latest addition to the Babyrest range. Babyrest offers a great range of reliable products and we're excited about this latest addition.

The Babyrest Aria Bedside Bassinet offers 2-in-1 functionality with Bassinet mode and Co-Sleeper mode.


For those precious first months when you need baby by your side, you can position the Aria close by your bed, and fold down the side panel for safe & easy access.
The 8 height positions allow you to adjust the Aria Bedside Bassinet to the same height as your own bed, and/or angled to help with reflux. The 360° mesh sides allow maximum ventilation to ensure a safe sleeping environment for baby, and keep baby within your full view from any angle.
Need to move rooms? The Aria Bassinet has 4 swivel wheels to transfer baby quietly and seamlessly between rooms without waking baby. When baby is sleeping independently, simply keep the sides zipped up to use in Bassinet mode.

Check out the video below for an overview of the Aria Bedside Bassinet.
FEATURES
2-in-1: Bassinet and Co-sleeper
360° mesh sides for maximum ventilation and visibility
8 height positions
Anti-reflux recline position
4 swivel wheels, 2 with brakes
Soft-padded edges
Supports natural rocking movement to settle baby
Opens and folds in a few seconds
Folds compact for travel and storage
Suitable from birth to 9kg, or until child can sit unaided
Comes with storage/travel bag
Made in Italy
Available in Grey, Beige and Blue Spot
Why do I need a bedside bassinet?
A bedside bassinet is the ideal sleep environment for your newborn. There are many benefits of sleeping close to your baby, including:
Keeping close to your baby while they sleep is proven to reduce the risk of Sudden Unexpected Death in Infancy (SUDI) or Sudden Infant Death Syndrome (SIDS).
Enhances the bond between parent and baby
Attend to baby for settling and night feeds without getting out of your bed
If baby sleeps well, so does mum and dad
Whilst it is strongly recommended to sleep close to your baby, it is very important that you do not share a sleep surface with your baby (co-sleeping or bed sharing). Sharing a sleep surface with your baby can increase the risk of Sudden Unexpected Death in Infancy (SUDI) or Sudden Infant Death Syndrome (SIDS).
Red Nose are considered the leading authority on safe sleep in Australia. They are an independent not-for-profit organisation with a goal to reduce the number of babies, toddlers and pre-schoolers who die suddenly to 0.
They have a National Scientific Advisory Group that is made up of experts in the fields of infant and child safety. You can read more about Red Nose here https://rednose.org.au/page/red-nose-today.
Red Nose recommends that the safest place to sleep a baby is in their own safe sleeping place in the same room as an adult care-giver. They advise that sleeping a baby in a cot next to the parents' bed for the first six to twelve months of life has been shows to lower the risk of SUDI. Here's some interesting articles from Red Nose relevant to this topic
What is a safe sleeping environment?
Is it safe to sleep with my baby?
In following the advice of Red Nose, there is one issue that many expectant parents encounter and that is space in their bedroom. Red Nose recommend sleeping a baby in a cot next to the parents' bed. However, many parents do not have space for a cot in their bedroom. Therefore, a great alternative is a bedside bassinet. This allows you to sleep the baby next to the parents' bed, without taking up too much space.
A couple of other benefits of using a bedside bassinet rather than a cot include:
The sides of the cot are quite high, meaning you would have to get out of bed to attend to your baby during the night. With a bedside bassinet, you can attend to the baby without getting out of bed.
Portable and foldable. This allows you to put the bassinet away when not in use and use the bassinet in different rooms of the house. Once the cot is setup, it may not be able to be relocated without dismantling the cot.
For further information about this, read our blog post on Should my newborn sleep in a bassinet or a cot?
If you would like further assistance, please be free to reach out to our team, we'd be glad to help. CONTACT US