Introducing the Cybex ePriam smart pram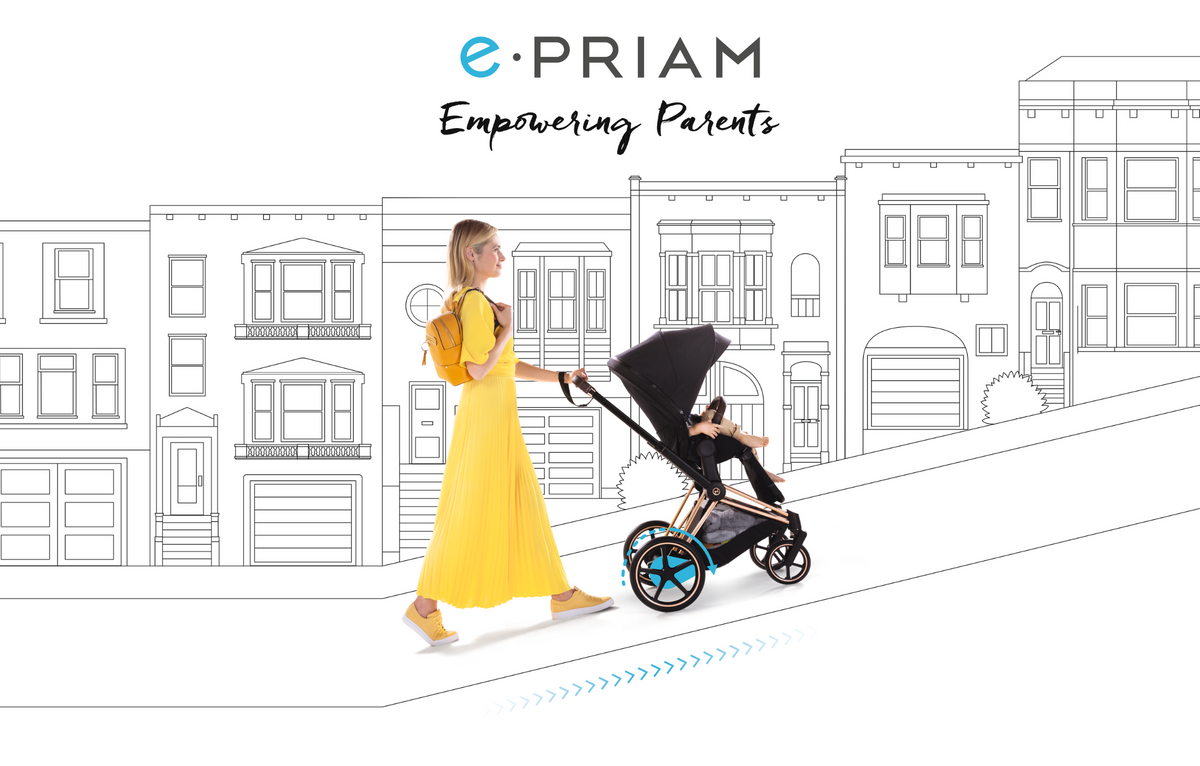 Today's parents grew up using smart products in almost all aspects of their lives. They have come to expect constant innovation to make our everyday lives easier, faster, simpler and smarter. Smart watches, virtual assistants, and AI is now readily available to help us to tackle everyday tasks.
Because smart parents call for smart products, it was a logical consequence for CYBEX, a German-based company globally renowned for their innovation, to develop a revolutionary smart stroller to help make parenting even more enjoyable.
"Hills just got easier,
Slopes just got simpler, 
Rough ground just got smoother" 
The first pram with smart assist
CYBEX has taken their iconic PRIAM and added smart innovative technology to assist parents in their everyday strolls. The ePRIAM is unique in offering a combination of luxury design and the latest tech innovation, comparable to that of an e-bike. The ultimate blend of style, quality and functionality.
This ground-breaking innovation enables parents to now enjoy walks with ease & simplicity, wherever your steps may take you – up hills, down slopes, or through challenging terrain.
Be smart, push easy
Invisible sensors integrated into the leatherette handlebar detect when extra pushing force is applied while going uphill, and automatically triggers 'Smart Uphill Assist'. You have the same feeling as if pushing the stroller on a level road, rather than a steep uphill climb.
Likewise, when going downhill, the handlebar detects when extra restraint force is applied, and 'Smart Downhill Assist' is applied, applying a gentle braking to the rear wheels.
And the integrated 'Smart Uneven Surface Assist' helps you when pushing through rough terrain like sand, cobblestones, grass or snow. 
Seamless tech integration
You can choose if you would like to activate or deactivate the smart assist with the simple foot-operated switch.
The CYBEX ePRIAM contains a battery which is seamlessly integrated into the rear axle, and is barely noticeable so as not to interfere with the signature stunning design.
The battery has an average range of 20 km, and has a simple LED indicator so you can always keep an eye on the battery level. When running low, the battery can be re-charged in 6 hours, either attached or detached from the axle. 
The background story
Hear from Cybex about the development of the ePRIAM.
Why we created an e-stroller
CYBEX is globally recognized as a pioneer in the field of parenting products, so it was perhaps inevitable that we would someday explore the new horizons of modern tech. The ePRIAM is the result—but why did we choose an e-stroller as one of our first forays into this field?
Power: A precious commodity for any parent. Power may seem an intangible and abstract concept, but it is in fact a vital resource that can take various forms—the energy needed to drag yourself out of bed in the dead of night to change a diaper or soothe a crying baby for example. The countless fresh challenges of early parenthood can lead to already-depleted reserves of energy being further sapped away, especially in the period immediately following birth.
Freedom is another expression of power. With a baby in tow a once-straightforward trip to the store can become a fiendish obstacle course, with parents having to watch out for every curb and pothole. Parents must carry not only their baby, but also diapers, baby food, a changing bag, and any number of necessities that could be needed at any moment, seriously impeding their mobility. It's little wonder that parents can be left feeling overwhelmed by the prospect of venturing outdoors, and at risk of becoming isolated.
With our first e-stroller, CYBEX presents a solution to this power imbalance. The ePRIAM has motorized support that responds instantly to the changing needs of the parent, taking the effort out of everyday travel with kids. With an e-stroller parents not only save energy, but they also gain freedom to move further, faster, and with less stress.
Empowerment is a theme that runs throughout the CYBEX D.S.F. Innovation Principle. Parents are empowered to lead fashionable lives with our beautiful Design. They are empowered to protect their children with our award-winning Safety. And they can take advantage of our innovative Functionality features to save energy and get more freedom. Therefore, when it came time to choose a tagline for our e-stroller, it was only natural that inspiration came from this fundamental goal: Empowering parents.
The e-stroller: a product for millennial parents
When we at CYBEX made the decision to begin developing an e-stroller, it was important to us that we respond to authentic customer needs, rather than creating a flashy gimmick with questionable purpose or use. And, according to research we recently conducted into millennial attitudes towards technology, it seems that our customers share our priorities.
Millennials - a generation who have been much in-the-news—are growing up. They're settling down, getting married and having families. And they need help. Faced with a climate of economic uncertainty, and without getting the support from grandparents that previous generations could count on, it's logical that this most connected of age groups is turning to technology and information systems for solutions.
We surveyed adults between the ages of 18 to 39, who either had an infant child or were expecting one at the time of the survey. What we found was surprising, with perhaps profound implications for the evolution of this market. It seemed that be that for all their attachment to technology—with many owning accessories such as a smart watch, using video calling services or using online banking and apps—millennial parents were still skeptical about the benefits of smart parenting. Perhaps when it comes to parenting, it isn't enough to simply add an electric component or an app to standard parenting gear such as bottle warmers or ear monitors. For parents to make an investment in a product such as an e-stroller, they need to be sure that it will make a tangible improvement to their lives.
Into this space comes the ePRIAM, a product whose core purpose is to give parents some extra independence. We specifically surveyed the benefits of an e stroller, finding that many of our respondents said they wanted a product that could help them walk up and down hills, or walk through snow. In fact, mobility was a key factor, with many respondents saying that an e-stroller would allow them to take longer trips, highlighting its empowering nature. On the other hand, few in our sample group stated that the main benefit of motorized strollers would be to help them look more chic or less exhausted, further underlying our view that when it comes to parenting tech, millennials demand substance.
Testing an e-stroller
A revolutionary product requires exceptionally rigorous testing. Over 100 electric strollers were put through their paces by independent testers in 14 different countries, with over 41,000 kilometres covered during the trialing - equal to the circumference of the Earth! From the scorching sands of Dubai to the snows of Finland and Spitsbergen, the ePRIAM endured extensive durability testing in extreme temperatures and altitudes—contributing to the development of a truly world-class e-stroller.
What our testers said about their e-stroller:
Definitely the best experience was using it while walking my dog. This was only possible with a powered stroller because of the help it gave me on the road. Michal, Czech Republic

I love it. It's especially good when carrying loads of shopping. Kirsten, UK

Much easier to push than a normal stroller. Nadja, Germany

It's great on uneven surfaces! Tamara, Austria

The best thing is clearly the extra power the stroller provides when the terrain becomes uneven or steep. Allan, Denmark
Other positive feedback included:
Driving Pleasure: Using an eStroller is fun!

Possible to walk off-road and on rough terrain without any trouble

Easy to use—the electronic support adapts to user needs

Convenient for carrying bigger children

Stable and strong
The ePRIAM: An e-stroller that wears its technology lightly
The advanced electronic stroller functionality of the ePRIAM is seamlessly integrated into our PRIAM stroller, itself inspired by the simplicity and elegance of modernist design. From the iconic silhouette of the hooded sun canopy to the stylish curved contours of the park brake on the rear axle, every detail of the PRIAM is in perfect harmony. Following in the footsteps of the legendary designers Ray and Charles Eames, CYBEX seeks to bring poetic design to everyday objects, allowing our customers to maintain the fashionable lives they led before they began the journey of parenthood. And our first e-stroller is no exception.
The electric motors, sensors and onboard systems are discretely incorporated into the PRIAM frame, itself a 4-in-1 travel system capable of carrying a stroller seat, a LUX Carry Cot or a LITE Cot, and an infant car seat. Elegant solutions have been found for integrating the technical elements: the perforations and stitching indicating where the handlebar sensors are located, the unobtrusive locations of the motors connected to the wheels.
Guided by the principle: "Form follows family", the PRIAM is tailor-made for the challenges of parental life, while maintaining superior visual aesthetics. This fusion of tomorrow's technology with timeless design resulted in our ultimate product—the ePRIAM.
What is the difference between ePRIAM and PRIAM?
The CYBEX PRIAM 2020 was launched in Australia in August 2019. Since then it has quickly become a popular choice for quality-conscious Australian parents. 
Elegant, refined, yet packed full of features, the PRIAM includes a lie-flat seat suitable from newborn. The PRIAM is very manoeuvrable with superb suspension and all-terrain wheels. Complete with an extendable large canopy, stair mode, and simple one-hand folding. Travel system compatibility makes swapping between bassinet, capsule and seat a breeze, adapting as your child grows. With a choice of premium chassis and fabric finishes, customise PRIAM to be uniquely yours. A convenient backrest pocket lets you store your valuables, while an extendable UPF50+ sun canopy and a breathable mesh window keep your child cool on hot summer days. Along with the Seat Pack's soft padded harness and seat inlay, your baby can travel in comfort while you travel in style. Easy to change, the Seat Packs are available in a range of attractive colours—or alternatively choose from our fashionable special editions, turning your PRIAM into a true statement piece.
The ePRIAM takes all these great features and adds the e. Revolutionary smart technology meets luxurious design in the ePRIAM. Intelligent, intuitive, and exceptionally innovative, the ePRIAM empowers you to glide up and down hills with ease, and smartly adapts to rough terrain like sand, gravel or cobblestones. Experience the magical sensation of a heavy load made lighter; of a rocky path made smooth; of an impossible climb made suddenly achievable. Go further, fit more into your everyday life - and have more energy for you and your child's future journey together.
To look at, there is little difference between the PRIAM and ePRIAM. The ePRIAM is essentially the same as the PRIAM, but with the added bonus of Uphill Support, Uneven Surface Support and Downhill Support. The ePRIAM  when switched off is very similar to the PRIAM and can be used this way. Visually, there have been some slight changes made to house the technology - the handle on the ePRIAM is more square to incorporate the sensors, and the rear axle is chunkier to incorporate the motor and battery. The ePRIAM is 2.2 kg heavier than the PRIAM due to these additions. 
Click here to view the details of the ePRIAM and Frequently Asked Questions: Cybex ePriam Pram 2020
More pram-related blogs you may find interesting: