Do I need a timber change tray for my dresser?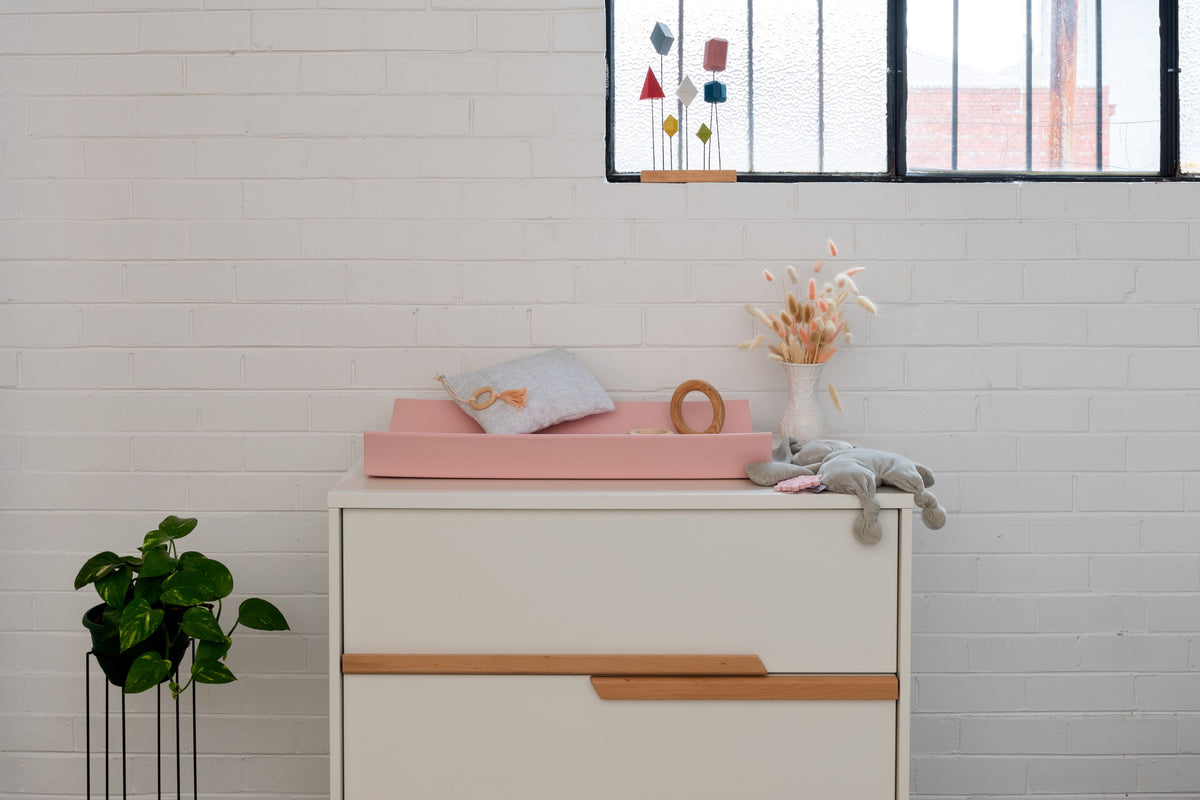 Often a dresser from a nursery furniture range will have a compatible timber change tray. These are also called a changing tray, a change top, change table topper or changing unit. Sometimes these are included in the package and other times they are an optional accessory that you can choose to purchase.
What is a timber change tray?
A timber change tray is a convenient way to change a normal dresser into a change table, while allowing the dresser to be used as a dresser again once you no longer require a change table. Typically, they are made of timber to match the dresser, they have protection on the base to avoid damaging the top of the dresser, and they fix to the back of the dresser with brackets.
Once you remove the change tray, there are no holes in the top of the dresser to show that it was there. You would usually need to purchase a change mat to fit inside the change tray. Change trays also often have a separate area to hold nappies, wipes and other changing necessities. The main reason for a change tray is to keep your change mat in position.
Above: A traditional timber change tray
Can I just use a change mat on top of the dresser, instead of installing a timber change tray?
This is an option. However, typically change mats are quite light and the base is quite slippery, meaning the change mat could slide around on top of the dresser. However, there are a couple of other options.
Babyrest Premium Changer Top. This is similar to the standard Babyrest Change Mat, but with grippy material on the base of the mat. The mat is quite light, however when the weight of the baby is rested on the mat, the grippy base stops the change mat from sliding. This is available in grey and white. 
Babyrest Nova Change Mat. This is a stylish changer top, available in 4 colours. The Nova is made of PUR, with a timber base and 6 rubber feet on the bottom. It is heavier, more sturdy and more durable than the Premium Changer Top.
Which is best for me? A timber change tray, or a changer top?
This will depend on your personal preference. To help you make this decision, we've listed out some of the benefits of each.
Benefits of a timber change tray
Provides a solid changing unit without the need for a separate change table
Often provides additional storage space for changing necessities
Can be removed when no longer necessary, allowing the dresser to be used as a normal dresser
Benefits of freestanding changer top
Typically cheaper than a timber change tray
Can be removed and stored out of sight
Portable - can be used in different locations throughout the house or even when out and about
Stylish - clean and minimalist style. Keep the clutter out of sight, in the top drawer of the dresser.
Above: A Babyrest Nova sits on top of a Babyrest Torquay chest of drawers
Anstel has a range of changing accessories, including standard size change mats to suit all common change tables or change trays, the Premium Changer Top, the Nova Changer Top and change mat covers. 
Check out the collection here. Please don't hesitate to reach out to our team with any questions you have, or if you require anything that isn't listed on the website. Contact us
Keep reading: