Discover the ingenious Dixie Folding Cot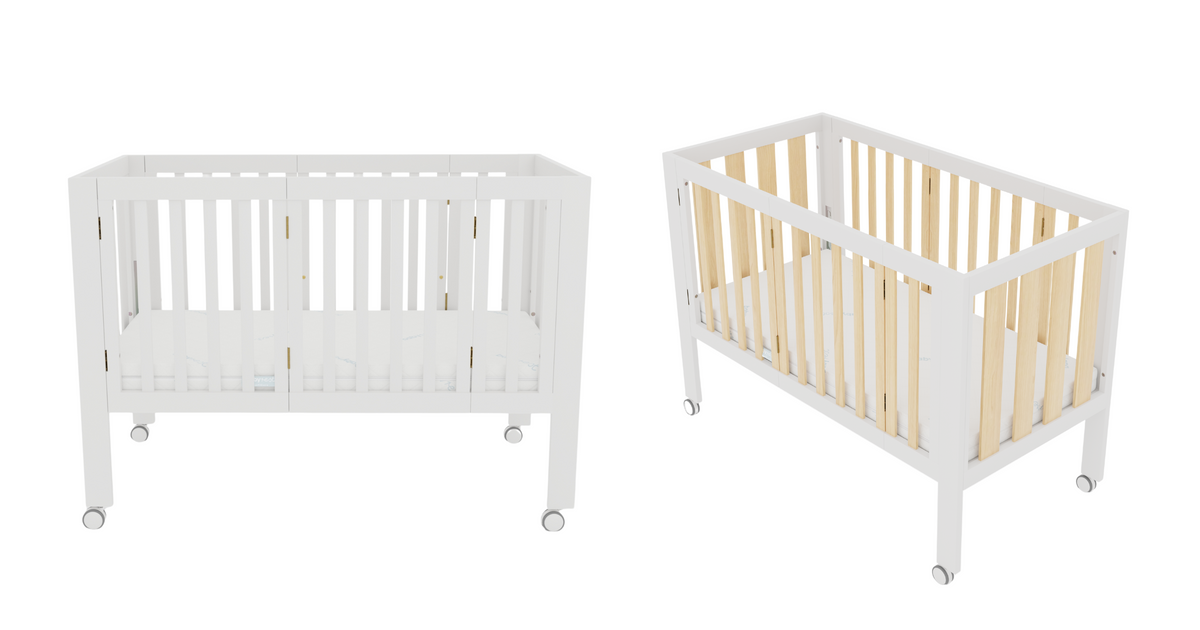 The Babyrest Dixie is no ordinary cot. 
It's a solid timber cot… that folds. In fact, it folds so compactly that it can easily be tucked into a cupboard when not in use. It allows you to enjoy many of the benefits of a portacot, without needing to compromise on safety, size, comfort, stability or style. 
Ideal for occasional use, but robust enough for full-time use, the Dixie's ingenious compact fold makes it the ideal companion for grandparents' homes, as well as holiday homes or Airbnbs where the cot needs to be stored away when not in use.  
Where cot meets portacot: features you'll love 
Available in both Timber/ White and All-White colour options, the Dixie Folding Cot casts an elegant profile from every angle and will complement all home decor styles. Featuring an adjustable base for bassinet and toddler levels, this cot is designed for use from newborn to around four years.  
The Dixie Folding Cot's four lockable swivel wheels make moving the cot between rooms a breeze, enabling you to stay close to your little one while they sleep and you go about your day. Simply lock in the wheel brakes once the cot is where you need it, and even the wriggliest of toddlers won't be able to move it! 
While the Dixie is compatible with a standard 120 x 60 cm mattress, the Babyrest ComfiCore Folding Mattress is designed specifically to suit, as it can be folded and stored together with the cot, helping you save even more space. 
Read how Babyrest mattresses are designed and made in Melbourne → 
Made from quality, sustainably sourced Malaysian Oak, you can rest assured that the Dixie is far better equipped to withstand toddler wear and tear than flimsy and cumbersome portacots, and can be passed down for use between siblings. The Babyrest team has truly thought of everything, because even the paints are environmentally-friendly, water-based, certified non-toxic and safe for children!  


How does the Dixie Folding Cot work? 

A testament to thoughtful design, folding and unfolding the Dixie is a two-minute job that one person can do - without breaking a sweat. Simply unlock the wheels, remove the mattress, pull the center of the base up using the conveniently placed finger holes until the sides are pulled in. From there, push the sides in completely until they form a rectangle. Once the cot has been fully extended, simply screw the other side of the base down (two screws) to ensure stability. 

The Babyrest ComfiCore Folding Mattress has been designed to perfectly fit inside the Dixie when in a folded position, making storage that much easier! Once folded, you can slip on the protective dust cover and you're done! To unfold, simply reverse the process.  

Watch how easy it is: 
Who would benefit from a folding cot? 
Folding cots are the ideal solution for grandparents who like to have their grandchildren stay over often but would like to stow the cot away between visits. Whether for overnight visits or even just daytime naps, a folding cot like the Dixie feels more like home to babies and toddlers, and we all know that comfort is key when it comes to quality sleep! 

While it may be most popular with grandparents, the Dixie Folding Cot has been designed with a wide range of uses in mind, including: 
If you don't want to have to choose between comfort for your little one and convenience for yourself, the Dixie Folding Cot could be just the solution you've been looking for.  
Who is the Dixie not suitable for? 
 
It's important to understand that folding cots like the Babyrest Dixie are ideal for secondary or occasional use, and can fold away compactly when not in use (like grandparents' homes or holiday houses!), not for travelling with. If you are looking for a lightweight cot that you can quickly pop in the boot or take on a plane with you on holiday, then a lightweight travel cot/ portacot would be the best option for you.  
The key benefit of the Dixie folding cot is its sturdiness compared to portacots – it's made from wood like a normal cot, rather than flimsy and collapsible sides that don't always provide a sound night's sleep This very benefit, however, makes it too heavy for travel purposes. 

Likewise, if you have a smaller space and are looking for an everyday cot that won't take up much room, you may be better off considering a compact cot instead of a folding cot for improved durability for everyday use.  
How does a folding cot compare to traditional cots and portacots? 
While traditional cots offer the advantages of increased comfort, durability, quality of materials, size, as well as both bassinet and toddler levels, they are large and can take up significant space.  
Portacots on the other hand are light, can be quickly folded and take up very little space in cars and cupboards. Unfortunately, a 2022 study by CHOICE found that more than two-thirds of portacots they tested in Australia failed key safety requirements. The majority of these safety concerns arose from soft or improperly fitted mattresses. Most concerningly, many of the travel cots tested were from well-known brands.  

The Dixie Folding Cot, however, hits the sweet spot with benefits from both. 

Your little one can enjoy the benefits of a traditional cot, including the comfort of a thicker, high-quality mattress that's the perfect fit, the sturdiness of its base and sides (no canvas rustling sounds here!), as well as lots of space to grow into. In short, they can enjoy a better sleep than they would get in a travel or portacot.  

Meanwhile, you can enjoy many of the conveniences of portacots - without the safety concerns - including the Dixie's effortless, single person fold, its compact size for easy storage, both bassinet and toddler heights to reduce strain on your back, as well as lockable swivel wheels for mobility. 

It also conforms to the Household Safety Standards for both household cots (AS/NZS: 2172/2003), and folding cots (AS/NZS 2195:1999), because we can all agree that nothing is more important than your child's safety. 

In short, if you're looking for an occasional use cot but don't want to have to choose between comfort for the baby or toddler and convenience for yourself, the Dixie Folding Cot could be just the solution you've been looking for! 
Discover the full Babyrest range 
Anstel has a team of passionate expert representatives. Get in touch with us today with any questions about the Dixie Folding Cot or other nursery essentials. 
 
More cot related blogs 
Keep reading