Introducing ComfiCore Cot Mattress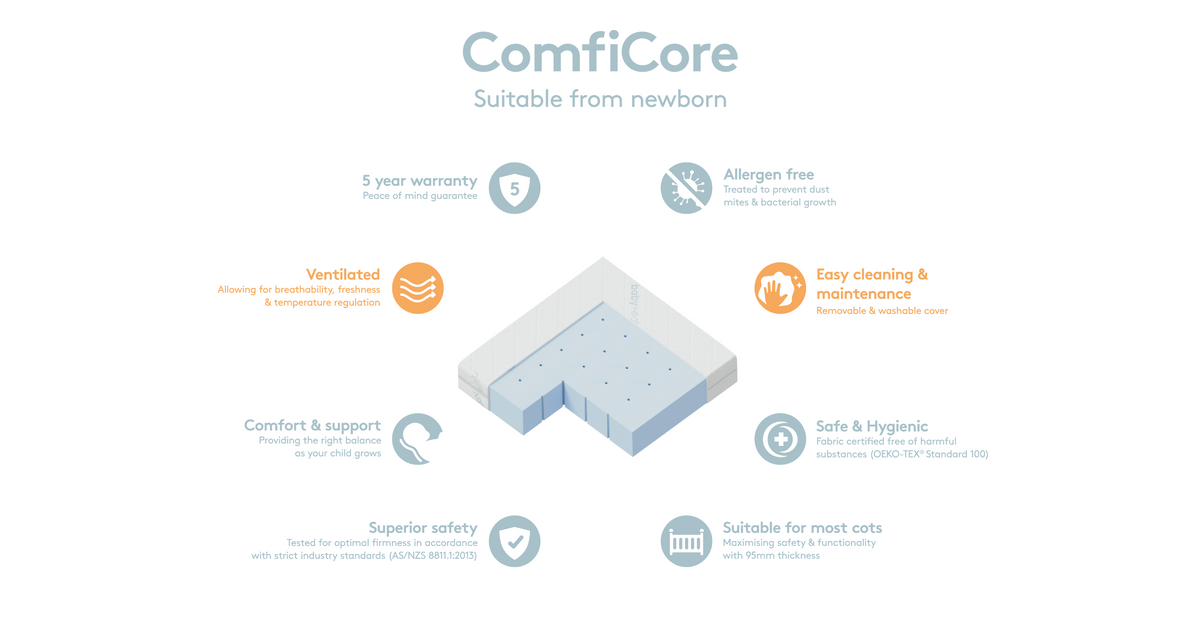 Safe, comfortable and breathable
Babyrest continues to develop innovative sleeping products for babies. The latest innovation is the new ComfiCore Cot Mattress.
Suitable from newborn, the ComfiCore Cot Mattress offers the right balance of comfort and support for your baby as they grow, ensuring a comfortable night's sleep and the right support for spinal development. The mattress has been independently tested to Standard AS/NZS 8811.1:2013 for Firmness of Sleep Surfaces.
ComfiCore's core is made from Global GreenTag™ certified foam to inhibit mould and bacterial growth. Visible ventilation channels run throughout the core to aerate the materials, keeping them fresh and hygienic. More importantly, they allow for maximum breathability and temperature regulation, which is critical to prevent overheating.
The removable cover is made from a soft and breathable polyester with a quality zip. The cover can be machine washed and dried, ensuring you can keep your mattress clean and hygienic. The cover is certified free of harmful substances according to OEKO-TEX® Standard 100. Replacement / additional covers are available for purchase.
The 95mm thickness makes ComfiCore ideal for maintaining a safe height clearance to the cot sides, ensuring safety while remaining completely light and manoeuvrable for linen changes (only a third of the weight of an innerspring mattress!)
ComfiCore is dual sided meaning you can flip and rotate the mattress regularly to increase the longevity of the product. Complete with a 5-year warranty and proudly Made in Australia by real parents, ComfiCore ensures peace of mind for parents, knowing their baby is sleeping soundly on a safe, supportive & comfortable mattress.
ComfiCore is available in all common sizes and being a product made here in Australia, we can deliver short turnaround times.
Can't decide between an innerspring or foam mattress? Read our comparison blog. Cot Mattress: Foam or Innerspring?
And if you're unsure about the safety of foam, read our blog Dispelling common misconceptions about foam cot mattresses.