Cybex Priam 2020 vs Bugaboo Fox 2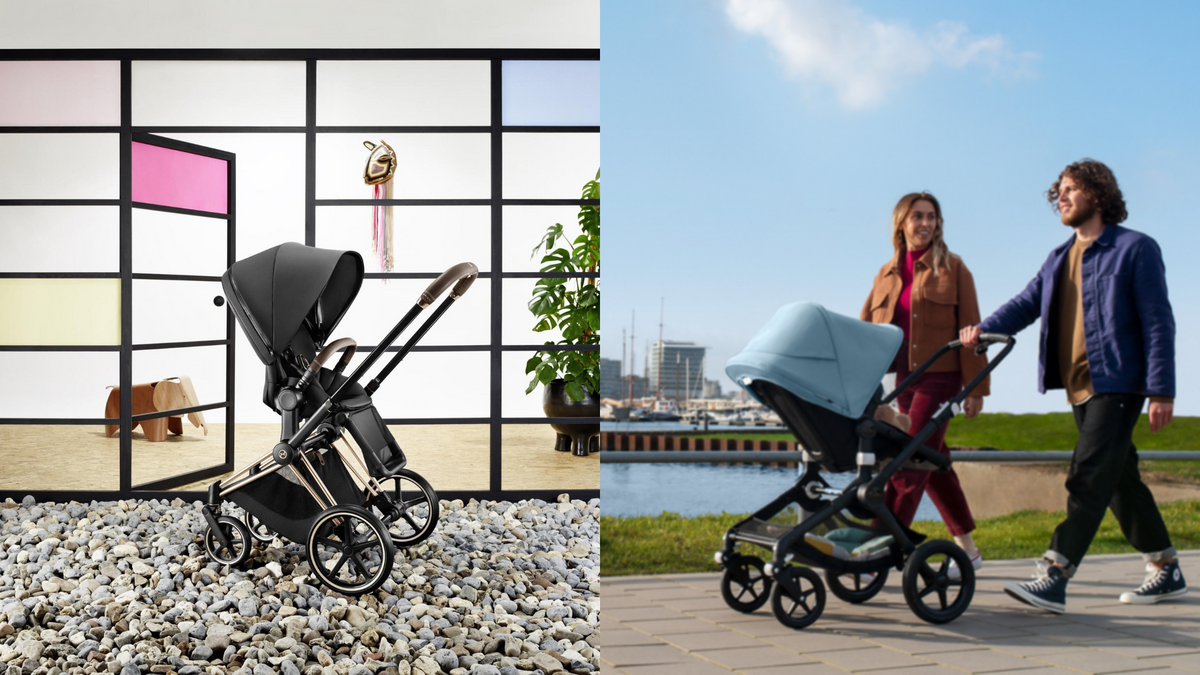 When it comes to premium full-size prams, you can't go past the Cybex Priam 2020 and the Bugaboo Fox 2. These strollers are the top of the line when it comes to luxury and functionality. Both hailing from premium European brands, they really are the best of the best. Which one is best for you?
In this article, we take a look at the main features of each pram to help you decide between them.
Brand
Bugaboo is a dutch brand of strollers that was formed in 1999. Since then, they have become one of the leading brands of luxury prams across the globe. Bugaboo have been selling prams in Australia for well over 10 years and have become a very well-known brand for Australian parents.
Cybex is a German brand that was formed in the early 2000's, primarily focussed on carseats. At the core of their product development is the DSF Innovation Principle; the combination of Design, Safety and Functionality. Cybex has not only become a leader in child safety, but is also seen as an innovative lifestyle and fashion brand. In recent years, Cybex has expanded into the stroller market; applying their product development philosophy from carseats to the broader infant market. Cybex is now one of the largest manufacturers of baby products in the world. Cybex is a more recent entrant to the market in Australia, only branching out here in the last few years. It is a much less known brand but their great designs and quality products have seen them make great strides in only a few short years.
Each of these brands has a wide range of strollers. In this article, we are focussing on the premium, most recent model full-size stroller that they offer: For Bugaboo, the Fox 2 and for Cybex, the Priam 2020.
Style
Obviously the style of the pram is a very important part of the purchasing decision. Here's some pictures to show the 2 prams and their differing styles. We'd recommend you check them out in store, or have a look at some of the videos online.
Cybex Priam 2020
Bugaboo Fox 2
Comparison of Features & Specs
| | | |
| --- | --- | --- |
| | Cybex Priam 2020 | Bugaboo Fox 2 |
| Folded dimensions (1 piece fold) | 40 x 60 x 95cm | 47 x 60 x 90cm |
| Unfolded dimensions | 95 x 60 x 110cm | 104 x 60 x 108cm |
| Folding type | One-hand fold, with 2 seamless steps | 2 hand fold, with several steps |
| Total weight including seat, canopy, basket & handle | 12.6kg | 12.2kg |
| Weight of chassis (with wheels & basket) | 8.4kg | 6.3kg |
| Seat Weight capacity | 22kg | 22kg |
| Folds with seat attached | Yes | Yes |
| Can be wheeled on rear wheels after folding with seat on (like pulling luggage) | Yes | No |
| Fold with bassinet attached | No | Yes |
| Fold-down bassinet | Yes | Yes |
| Free standing when folded | Yes | Yes |
| Handle bar height | 98cm - 110cm | 88.5cm - 108.5cm |
| One-hand handle bar adjustment | Yes | No |
| Seat height | Table height | Table height |
| Seat length | 97cm | 94.5cm |
| Reversible Seat | Yes | Yes |
| Lie-flat seat. Suitable from newborn | Yes | No |
| One-hand recline | Yes | Yes |
| Wheels size | 20cm front / 30cm rear | 22cm front / 30cm rear |
| Wheel type | Foam-filled rubber wheels | Foam-filled rubber wheels |
| Suspension | All wheels | Central-joint, with additional rear-wheel suspension |
| Two-wheel mode (for sand and snow) | Yes | Yes |
| Adjustable footrest | Yes | No |
| Travel system compatibility | Yes (adapters included) | Yes (adapters extra) |
| Large sun canopy | Yes | Yes |
| Bassinet type | Separate Bassinet - optional purchase. Standalone Bassinet, can be used separate to Seat. | 2-in-1 Bassinet - included.  Converts from Seat frame & canopy. Cannot be used independent to Seat |
| Bassinet included in the package | No. However you don't necessarily need a bassinet - can use lie-flat seat (suitable from newborn) and/or capsule | Yes |
| Shopping basket capacity | 5kg | 10kg |
| Shopping basket can expand and collapse | Yes, with magnets (more discrete, great for hiding valuable items) | No |
| Extra pockets on bassinet for storage | No | Yes |
| Extra pockets on seat for storage | Yes | No |
| Ventilated Bassinet | Yes, panarama view | No |
| Build quality and materials | More metal, more sturdy | More plastic, less sturdy |
| Flip-flop friendly brakes | Yes | Yes |
| Extras included | Raincover, capsule adapters | Raincover |
| Style features | Striking chassis, clean modern lines, luxury premium look | Variety of colours for hood canopy customisation |
| Warranty | 2 years | 2 years + 1 year additional if product is registered |
| Ride on board available | Yes | Yes |
| Country of manufacture | China | China |
In summary, both are great prams with premium features backed by reputable global brands. Both prams are very manoeuvrable and easy to push. The Cybex Priam 2020 is more sturdy and made from premium materials, which results in it being heavier. This is somewhat offset by the ability to wheel it like luggage, so you don't need to carry it as much. The Bugaboo Fox 2 is much lighter but also less sturdy.
No pram will tick all the boxes; you need to prioritise which features are more important to you and your family. Ultimately, the decision on which pram is for you has to be made by you. We hope this article provides you with some information to make that decision easier. 
Now read about the Cybex ePRIAM. Incorporating all the great features of the PRIAM with innovative new technology that provides Uphill Support, Uneven Surface Support and Braking Support.
If you have any further questions, please reach out to our team, we love helping parents and parents-to-be with their pram purchase. Contact Us.