How to choose a travel stroller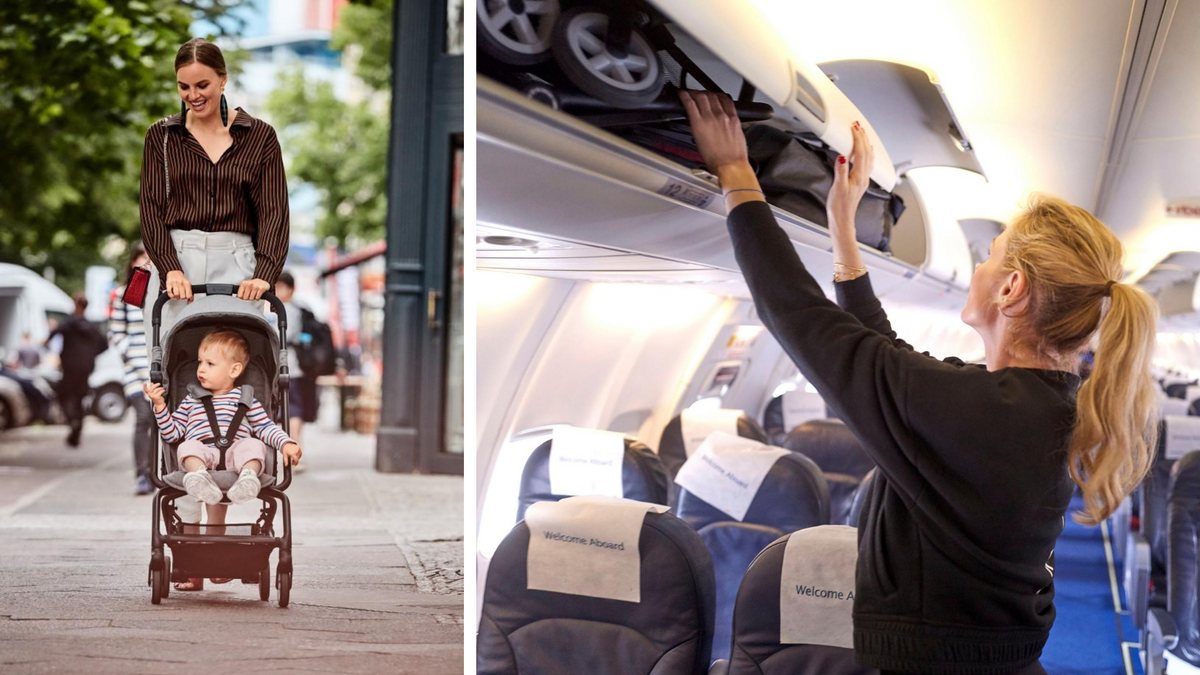 Travelling with a baby or toddler, you're bound to have your hands full. There is definitely more work involved in holidays when you factor in young children. Investing in a quality travel stroller can make travelling and holidaying with kids a whole lot smoother. However, don't just limit it to travel - travel strollers make a great second pram for everyday use.
Compact and light, travel strollers are very convenient when running errands, a quick trip to the shops, ducking into a cafe with friends, and the list goes on. It is important to choose a travel stroller that meets your requirements. 
There is a wide range of travel strollers on the market, each with their own unique features. It can become very difficult to work out what really matters and narrow down your options. In this article, we go over the main things to consider when choosing a travel stroller. Hopefully this makes your decision easier. 
Key points to consider
Age of baby
If your child is under 6 months old, you will need a stroller that has a lie flat seat or that has a separate bassinet or car capsule attachment option, allowing it to be suitable for newborn use. A stroller with full recline seat is ideal for travelling with a newborn, as it means you are not required to take additional items. A stroller with full recline seat is great for a tired toddler too, if they decide they want a nap on the go, full recline is more comfortable. 
If you are purchasing a travel stroller as a second stroller, not for newborn use, you may not be so concerned about full recline. Some travel strollers have partial recline, so they are not suitable for newborn, but they still provide a comfortable environment for your child over the age 6 months. Strollers that feature a full recline are generally bulkier and heavier, but the trade-off may be worth it for you. Otherwise, consider a stroller with little or no recline to save on weight and space.
Purpose - travel / everyday use
Will you only use your travel stroller for travelling? Or will you want to use it for everyday use? If you want to use it for both, you will want a stroller that is small enough to travel with and to fit into the overhead compartment on the plane, but also robust and durable enough for everyday use as well.
You also need to weigh up what is the most important aspect for you. Are you after a very small and light stroller that will go wherever you go, including on the plane? Or do you want a stroller with great features that will be better once you're at your destination, but may not necessarily fit in cabin luggage?
Realistically, you may be looking for a compromise of both - small enough to fit on overhead luggage, but including some additional features that make it a great stroller for everyday use.
Travelling by car or plane?
Regardless if you travel by car or plane, you will want to make the most of your travel space. If you are travelling on planes, then a lightweight stroller that is super compact folding and overhead compartment compatible is going to be very important. Having your pram right there with you when you disembark after a flight can be so advantageous.
If you aren't travelling on planes, you will still want a light, compact stroller to save luggage space. However, it is not essential that your travel stroller meets requirements to fit into overhead luggage on the plane.
Surfaces your pram will be used on
Evaluate the type of surfaces your travel stroller will be used on - both in your everyday lifestyle, and your travel destinations. Is the terrain mainly flat, or hilly? Concrete paths or cobblestones? Mainly airports, shopping centers or out and about, at the park etc.?
If it is not just for smooth surfaces like airports and shopping centers, then you definitely want to consider the following: 
Larger wheels
Suspension
Comfortable padded seat
Quality of wheels - premium rubber, or plastic?
Although these features may make the stroller weigh more - they are worth considering as they contribute to a comfortable ride for the child and comfortable to push for the parent.
Domestic or international travel? Which airline(s)?
Carry-on restriction rules differ for domestic and international flights, and vary between airlines. You will need to check directly with your chosen airline(s) for specific cabin luggage requirements, to ensure you can take your travel stroller on board. Generally, domestic rules are stricter than international. Often airlines will allow you to check in the stroller at the gate, if it can't go in the overhead. This still allows you to use the stroller for the long walks at the airport.
Other Features to look for
Ease of use: Easy, effortless to fold and unfold - especially when you are in a hurry to get into the car or at the boarding gate. One hand fold is best and free-standing is a plus.
Extra large sun canopy: An extendable sun canopy is essential when visiting hot and sunny destinations.
Large storage basket: When you are travelling, storage will come in very handy.
Accessories available: Some accessories will be very handy for you when on the go, such as a travel bag that the stroller fits into, a cup holder, rain cover, adapters to attach your capsule etc.
Anstel has a great range of travel strollers, here's a quick overview.
This travel stroller is incredibly light and is a great pick for air travel. This travel stroller is the lightest and smallest (when folded) of all travel strollers…ever. It currently holds the Guinness World Record for the smallest folding stroller. It lives up to its name, it really is pocket size. It weighs a mere 4.6kg. So, if weight is your most important feature – this one is it.
The tiny folded dimensions allow this stroller to be one of the few that can fit inside an overhead compartment or under the seat in front of you on the plane. The only drawback with this stroller is that the sun canopy is a bit small and it doesn't recline. Otherwise it is the perfect travel stroller for a toddler (it is only suitable for a child over 6 months).
It has all-terrain double wheels, allowing parents to manoeuvre on different surfaces. The backrest is designed with a breathable mesh fabric that provides comfort for your child even on hot days.
Weighing just 1kg more than the Guinness world record smallest travel stroller, the GB Pockit+ is still super lightweight, weighing 5.6kg. The Pockit+ folds down to an uber-compact, handbag shaped package. You can take it all the way onto the plane. The seat on the Pockit+ does recline, adding comfort for a napping toddler, but not completely flat, so the seat isn't perfect for newborns.
It is car capsule compatible and a bassinet (cot to go) can be purchase separately to make it suitable from newborn with the use of adapters. Otherwise, the seat is recommended for kids 6 months and up.
This nice-looking, luxury, compact and light-weight stroller is packed full of features. It is so easy to use and is very sturdy. The seat has a lot of padding and looks so comfy. The Qbit+ has a full lie-flat seat, making it suitable from newborn. This is one of a few travel strollers available that has this feature.
Although it is not the lightest stroller, this stroller is so versatile – it is great for dual purpose use. You can use it for travelling or home. It is so easy to whip out and use at the mall or strolling in the city and around the suburbs. It has a large shopping basket which is easy to access and is one of the largest on the market for storage.
It has built in leg rest and bumper bar included. The wheels are excellent – 360 degrees swivel, suspension on all 4 wheels making it one of the easiest strollers to push around. Lockable front wheels that can handle more terrain than most other travel/compact strollers on the market.
Overview of Specifications
This table provides an overview of the main specifications.
| | | | | |
| --- | --- | --- | --- | --- |
| | GB Pockit Air | GB Pockit+ | GB Qbit+ | |
| | | | | |
| Folded dimensions | 18 x 30 x 35cm | 20 x 34 x 42cm | 58 x 43 x 27cm | |
| Weight | 4.6kg | 5.6kg | 7.8kg | |
| Airline Compatible* | Yes | Yes | Yes | |
| Suitability | 6 months - 22kg | 6 months - 22kg | Birth - 22kg | |
| Compatible with capsule / bassinet | No | Yes | Yes | |
| Fold | 2-hand | 2-hand | 1-hand | |
| Self-standing when folded | Yes | Yes | Yes | |
| Recline | None | Partial | Full | |
| Parent / forward facing | Forward | Forward | | |
| Lockable front wheels | Yes | Yes | Yes | |
| Storage basket capacity | 5kg | 5kg | 5kg | |
| UPF50+ sun canopy | Yes | Yes | Yes | |
*All airlines have different carry on luggage requirements. Check with your airline before flying to ensure you will be allowed to take your stroller on board.
Our team love helping parents and parents-to-be with important purchasing decisions. CONTACT US for assistance with your travel stroller purchase.
Keep reading: